Earthquake Outreach comes to Arkansas
Thursday, February 17, 2011
"What would happen if there was an earthquake? Would you be ready? Would your business be ready?"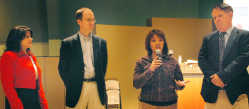 These are just a few of the questions asked at the Arkansas Earthquake Outreach Initiative held Monday, Feb. 7, at St. Bernards Regional Medical Center in Jonesboro.
"We hope it never happens, but we need to be prepared if it does," said Jonesboro mayor Harold Perrin.
Tommy Jackson, public information officer for the Arkansas Department of Energy Management, said, "Preparedness is what we are all about. An earthquake on the New Madrid fault line could be very serious and we're here today to talk about being prepared and aware, not to alarm people.
"Guy, up in Faulkner county, is a hubbub for natural gas, and there has been drilling going on for the past couple of years," he said. "Currently Guy has several small earthquakes every day. I don't want to make earthquakes seem too commonplace, because a major earthquake is a possibility in the New Madrid area."
The New Madrid fault suffered from three 7.0 to 8.0 magnitude scale earthquakes back in 1811 and 1812. These earthquakes severely damaged much of Arkansas. Today Guy, which sits close to the fault, has had over a thousand small earthquakes in a one-year span.
"Some tips we have if you are ever in an earthquake are: if you are in a car, stay inside the car; if you are in a house, stay inside the house, and if you are outdoors, stay in an open area until the shaking stops. Also remember 'stop, drop and cover.'"
Brian Blake, earthquake coordinator for the Central United States Earthquake Consortium, also spoke.
"We need to know what to do when the ground shakes," he said. "These are projected estimates of damage, but the statistics show that if there is a 7.7 magnitude earthquake that takes place, over eight states will be affected in a $300 billion event. It would leave 2.6 million without electricity and 1.1 million without water, over 85,000 injuries and 3,500 deaths. To put that into perspective, Katrina killed 2,500 and cost $88 billion in damages.
"More people die in earthquakes than any other natural disaster," Blake continued. "There are not only deaths as a result, but infrastructure, liquefaction, non-structural and residential damage. Most people are injured from items falling on them during the earthquake. Some things to remember are don't try to get in a doorway or run, but instead try to get under a table."
Claudette Fetterman, FEMA senior program manager of the Federal Emergency Management Agency, gave some tips on how to secure homes for a potential earthquake.
"Identify your risks," she said. "Look at the structural and non-structural items in your home and then make a plan. Once you've made a plan, take action, for example, by securing large items to walls, especially items that can hurt someone, block an exit or start a fire."
The state of Arkansas, along with eight other states, will participate at 10:15 a.m. April 28 in an earthquake drill called The Great Central U.S. Shake Out.
The website offers practice drills for individuals, families, schools and businesses. Those who wish may register themselves, their family or organization at www.ShakeOut.org/centralus.