Trumann to host health fair Feb. 22
Thursday, February 17, 2011
Free wellness screenings will take place Tuesday, Feb. 22, at the annual Trumann Health Fair, to be held at the Trumann High School gymnasium. The event is free and open to the public.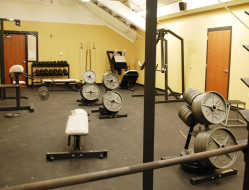 The free wellness screening will include cholesterol, anemia, glucose, BMI, carpel tunnel, blood pressure, dental and respiratory.
Trumann High School nurse Karen Adams spoke about the event.
"The Trumann schools organized a small health fair over 10 years ago. It started out with a small screening for the teachers, like having their blood pressure taken and cholesterol checked, but we wanted to open it up to the public.
"It started small, but last year we had about 350 people attend the fair," Adams said. "It's beneficial for everyone here. We are between Jonesboro and Memphis, so it can be difficult for people to get out and get these routine screenings. This is also an opportunity for people who might be uninsured to get free screenings. To get all of these done would cost well over $250 in a typical doctor's office."
Adams said the event will provide displays and information for adults, the elderly and children. Arkansas Children's Hospital, the Center on Aging of Northeast Arkansas, and the Arkansas Maternal Infant Program will be in attendance.
"Dr. Curtis of Curtis Chiropractic and Wellness Center will be offering muscle screenings and Dr. Betts of Health Source will offer a back and neck massage," Adams said. "There also will be a free dental screening. For mental wellness, we are providing distressing techniques and counseling.
"Kops for Kids will give tips on drug awareness, and there will also be a forum on the school's cafeteria which will answer questions about nutrition and allow for menu suggestions.
"The fire department will have a Smoke House set up to demonstrate how to get out of a burning house. They are also going to let children tour the fire truck and take a look at some of the equipment that is used. The Trumann police will also be attending and they are setting up a drunk driving simulation."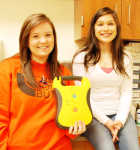 Jessica McClaughlin and Gabby Santos are two Trumann students who are involved on a committee helping to raise awareness about the upcoming fair.
"We've designed posters and helped with advertizing. We're trying to get everyone here to come out to it," said McClaughin and Santos.
"These girls have really pushed personal fitness performances to get younger students out," said Adams.
"There will be a yoga demonstration, martial arts and cheerleading performances. Fitness Boot Camp will also be attending. So even if you came out last year, come again. We've brought some new things to the fair and these screenings are important to get every year."