Representatives of Poinsett County visit Jonesboro for economic development meeting
Thursday, February 17, 2011
The cities of Poinsett County are looking to be part of the Powering Rural Development Project with the aim of organizing a plan for greater economic development in the county as a whole.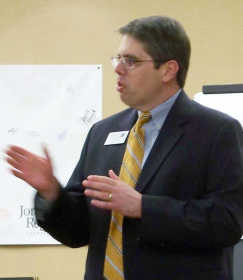 This week a steering committee made up of representatives from cities in Poinsett County, including mayors and County Judge Charles Nix, met in Jonesboro with Jerry Smith of the Delta Center for Economic Development, Jonesboro Mayor Harold Perrin, Craighead County Judge Ed Hill, and Jonesboro Chamber of Commerce President Mark Young to discuss developing such a plan.
This is part of a series of community visits the steering committee will make in order to see what strategies other communities have used for economic development before coming up with a strategy for Poinsett County. Other community visits are planned for Clark, Jackson and Mississippi counties.
Young spoke to the steering committee about some important things to keep in mind as they develop a plan. Young cited the importance of getting perspective from someone outside the community and identifying what kinds of businesses the county wants to attract. Young also pointed out it will take everyone working together to make a plan successful and emphasized the importance keeping and growing the businesses the county already has. He noted having infrastructure is important to attracting new businesses.
"We need to find our direction and realize where we fit," Judge Nix said. "Jonesboro is the hub of Northeast Arkansas. We're trying to figure out where we fit in the puzzle."
Nix hopes these community visits will give the steering committee an idea of how to proceed.
"Hopefully we can identify with a county similar to us for a direction to go in."
Harrisburg Randy Mills underlined the importance of cooperation between cities.
"It's to all our benefit Jonesboro's growing," Mills said. "We're in this together. We have to commit as a group to helping each other."
The PRD Project was conceived by the Delta Center for Economic Development at Arkansas State University as a way to build capacity, organization and sustainability for rural economic development, as well as build an effective link between independently operated small town programs and multi-county regional programs.
The project is sponsored by the Electric Cooperatives of Arkansas with support from the U.S. Economic Development Administration.