EPC Claims conference and district titles
Thursday, February 17, 2011
The East Poinsett County Junior Warriors claimed the top prize in the 2A-3 Junior District Tournament at Cherry Valley, topping Riverside in the championship game Saturday. EPC earned their hardware is strong fashion, besting the Junior Rebels of Riverside, 54-34.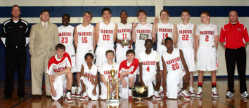 The Junior Warriors took control early, outpacing Riverside, 12-0, in the first frame. EPC continued to dominate in the second frame, taking a 24-3 advantage into intermission. The Junior Warriors were in front, 40-18, heading into the fourth.
It was all about defense for EPC, who was able to completely disrupt Riverside's offensive game plan. The Junior Warriors created havoc on nearly every Junior Rebel possession, resulting in several turnovers and broken plays, leading to easy buckets in transition.
"I was real pleased with this team," EPC coach Josh Hill said. "I thought we did a really good job on defense and rebounding the ball throughout the tournament. We don't necessarily shoot the ball real well, but we're able to generate a lot of our offense through our defense and rebounding. Those two things are our biggest strengths and we do a good job of playing to those."
Three Junior Warriors reached double digits in scoring in the victory. Malik Monk led the way with a game-high 18 points. Chris Bly and Paul Pilgrim finished with 14 and 10 points, respectively. Also scoring for EPC were Aaron Scale 8, T.J. Young 2 and Byron Scales 2.
Ben Hensley scored 14 for Riverside.
Semifinal Win
Earlier Saturday, EPC topped Rector in semifinal action, 37-30.
The contest proved to be the Junior Warriors' toughest challenge of the tournament, but in the end, outstanding defense proved to be the difference. After taking a 16-11 lead into the second frame, EPC held the Junior Cougars scoreless in the quarter, moving ahead 20-11 at intermission. The Junior Warriors led 27-22 at the end of the third.
Monk notched 12 points in the win. Also scoring for EPC were Byron Scales 8, Pilgrim 8, Bly 8 and Aaron Scales 1.
Alec Scott finished with 12 points for Rector.
First Win
EPC picked up their first win of the tournament Friday, blasting Walnut Ridge, 61-19.
The Junior Warriors took control early and never looked back, leading after each quarter: 19-4; 36-7 and 50-14.
The one-sided game served as a good opportunity for the young Warrior squad to pick up some experience, as coach Hill went to his bench for much of the contest. Nine players entered the scorer's column for EPC in the win. Monk finished with a game-high 16 points. Pilgrim notched 10 in the victory. Also scoring were Byron Scales 9, Bly 9, Treyvon Montgomery 6, Kyler Gordon 4, T.J. Young 3, Zach Maddox 2 and Quinn Young 2.
EPC capped off a successful season, winning both the district tourney and conference crowns while remaining unbeaten in 2A-3 play.
"I think this group has a good chance to be successful in the future," Hill said. "They've got talent and they work hard. That's a good combination to have. I think they'll be fun to watch."