Trumann Girl Wildcats Plundered by Gosnell Pirates
Thursday, February 17, 2011
Trumann could not overcome the first half turnovers, as the Gosnell Lady Pirates beat the Lady Wildcats, 55-38, in the first round of the 4A-3 District Tournament at Trumann Monday night.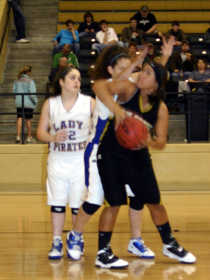 The Pirates put on a full-court press during the first period which led to seven Lady Wildcat turnovers. With their solid defense, Gosnell held Trumann to six points in the the first period and four points the second quarter, setting up a score of 38-10 in favor of the Pirates at halftime.
The second half was a different story. Trumann came out with their version of full-court pressure and forced six Lady Pirate turnovers in the third period. A three-point shot by Megan McGowan saw the Lady Wildcats cut the Gosnell lead to 18 points, 42-23. Trumann trailed, 47-30, heading into the fourth frame.
The fourth quarter saw the two teams trade buckets, as both squads scored eight points in the period.
Trumann outscored Gosnell 28-17 the second half, but the first half was their nemesis.
Morgan Taylor scored 12 points to pace the Lady Wildcats. Macy Hicks also notched double digits, finishing with 10 points. Also scoring for Trumann were Kelly Guthrie 6, Courtney Toddy 5, McGowan 3 and Sydni Peacock 2.
Kemahn Soward had 13 for the Pirates.
The loss ended the Lady Wildcats season.
"Well it's over except for some off season work," Trumann coach Randy Johnson said. "Our plan was to play the first half like we did the second, but we just couldn't get in rhythm. The girls played and worked hard in the second half. I was really proud of them."
The Junior Lady Wildcats lost their first game in the junior district to top seeded Valley View, 44-10.
.