Masons hold appreciation dinner for widows in MTree
Friday, February 25, 2011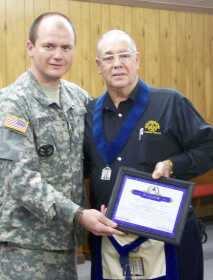 Marked Tree Masons of Elm Lodge #766 gathered last week with other Masons from around the state to host a dinner open to the public to honor Masonic widows.
Over 50 people from the community filled the lodge for a night of good food, good music and to see the presentation of awards to some good people.
After a filling meal, everyone gathered in the lodge to listen to the band -- Patrick Daly, Johnny Rye Jr. and Joseph Kirby -- as they performed several songs, including quite a few by Johnny Cash and Dick Burnett's "Man of Constant Sorrow."
Afterwards, a widow's pin was presented to Glenda Jones, whose husband was the late Reginald Jones.
"We are taught to always pay tribute to a master Mason," Jackie Ragan said, "and one of the ways we do that is by honoring their widows. The widow's pin is just a small token of our appreciation and support."
A scholarship was awarded to Shelby Beck and certificates for outstanding work and contributions were awarded to Gladys Franklin, Mary Stanley, Rosemary Nichols, John Franklin, William Stanley, Ray Nichols, Drew Price and Earl Barnett.
John Franklin also was awarded the Pillars of Solomon award, which is the highest award a Mason can receive.