James H. moon Sr. dies at 82
Friday, February 25, 2011
Longtime Poinsett County leader and businessman James H. Moon Sr. died Friday, Feb. 18, at the Flo and Phil Jones Hospice House in Jonesboro. He was 82.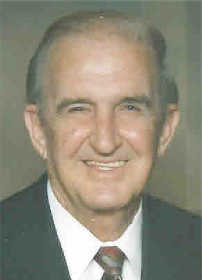 A cotton farmer, ginner and implement dealer, Moon was owner and president of Town and Country International, Inc., Riceland International, Inc., Valley Equipment Inc., and Dixie Gin of Poinsett County, Inc. He cherished the many friendships he developed through involvement in these businesses.
He served many years as chairman of the Poinsett County Election Commission, Poinsett County Democratic Central Committee and was the 1997 Harold Jinks Arkansas Democratic Man of the Year.
He served on the Arkansas State Plant Board, Drainage District #7 Board and was a member of the Trumann Lions Club.
Born Thursday, March 29, 1928, in Trumann to Claud Everett Moon and Estelle Young Moon, he lived his entire life in the Trumann area. He was a member of the First Baptist Church of Trumann.
He served three years in the United States Navy.
He was preceded in death by his parents; one grandson, James Harris Moon III; three brothers, Earl Moon, Claud Moon and David Moon; three sisters, Sadie Hudson, Lucille Cash and Ruth Lorenz, and his first wife, Patsy Ruth Byrd Moon.
He is survived by his wife of 45 years, Doris Hogan Moon of the home; two daughters, Marilyn West (Bruce) of Bay and Jami Condra of Harrisburg; three sons, James H. Moon, Jr. (Robbie) of Harrisburg, Bill Moon of Little Rock and Matt Moon (Amber) of Trumann; six grandchildren, Darren Criss, Andria McDaniel, Sunny Moon, Weston Moon, Chelsea Condra and Cade Condra; two step-grandchildren, Jared West and Justin West; two great-grandchildren, and many nieces and nephews.
After a family graveside service at Jonesboro Memorial Park Cemetery on Monday, Feb. 21, a memorial service celebrating his life was held at First Baptist Church, Trumann at 11:30 a.m. Dr. Tad Rogers and Rev. Kenny Guy McMahan officiated. Arrangements were under the direction of Thompson Funeral Home of Trumann.
Visitation was from 4 to 6 p.m. Sunday evening at First Baptist Church, 1301 Highway 69 West, in Trumann.
Memorials may be made to the Flo and Phil Jones Hospice House, 400 East Street, Jonesboro, AR 72401; First Baptist Church Trumann, P.O. Box 575, Trumann, AR 72472, or a charity of your choice.
An online register book can be signed at www.thompsonfuneralhome.net.