In-shop archery range pays off for competition winners
Friday, February 25, 2011
Dalton Vaughn of Lepanto started shooting bows when he was about five or six years old. He shot until the age of 10 or 11 and then got out of it for a while. He started shooting again when he and his father, Jeff Vaughn, opened Better Outdoors, an archery shop in Lepanto, complete with an indoor archery range.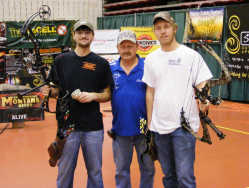 A couple of weeks ago, Dalton and his shooting partner, Tanner Pounders, won the team division of the Team Bowmasters of Arkansas 3D Popup Archery Tournament at the Arkansas Sports Show in Jonesboro.
"Dalton and Tanner and several other shooters practiced in our shop to prepare for the tournament," Jeff said. "Their preparation must have been good because their shooting sure proved it."
Dalton said he shoots every day.
"I started shooting again last February, about the time we opened up the shop," he said. "I needed something else to do, and it's a lot easier to sell bows if you shoot them too."
Before the archery shop, Dalton had worked on decals since he was 16 six years, while Jeff had a mail route and worked in construction.
"We'd always worked on bows, and we had all the stuff, so we figured why not? It's a lot of fun. You learn a lot of new stuff," Dalton said.
Better Outdoors is a full service bow shop that carries everything related to archery.
"From bow fishing to bow hunting, everything you can do with a bow, we've got it," Dalton said.
The store also offers Hunter Education courses and provides archery equipment for EPC schools.
"We sell everything for youth to get into archery and show them everything we can," Dalton said.
To prepare for the tournament, Dalton, Tanner and other local shooters practiced at the shop's 20-yard indoor archery range on regular and 3D targets.
Dalton said he participated in the individual and team tournaments. In the team tournament, which he and Tanner won, each team shoots three rounds. The 3D targets -- which included a warthog, Russian boar, coyote, deer and Corsican ram -- pop up for seven seconds, allowing the participant to shoot and load the bow for the next one.
Scoring on the targets is five points for the body, eight for the killzone, 10 for a ring inside the killzone and 12 for a smaller ring at the bottom of the 10-point ring. Dalton said they scored 112 on round one, 106 on round two, and 102 on round three. They were awarded cash for their win.
Dalton also participated in the Northeast Arkansas Bowhunters walkthrough 3D shoot last weekend.
"We had everybody from town up last weekend. We do work for them. They're customers we've known forever. I've known Tanner since we were three or four. We've shot since we were little bitty."
Dalton does a little hunting, too.
"I hunt mostly coyote. I've been getting into deer when I can. There's just not enough hours in the day," he laughed.
And Dalton's favorite aspect of shooting bows?
"Knowing that if I try, I can shoot better than anyone I can stand beside," he grinned.
Better Outdoors has lists of all the upcoming archery tournaments free to all by calling 475-DEER. For anyone interested in bows or getting into bow shooting, the shop is definitely worth checking out.