Trumann's Health Fair well attended
Friday, February 25, 2011
Trumann's annual Health Fair took place Tuesday, Feb. 22, at the Trumann gym and parking lot, bringing out crowds of people looking to benefit from the free health services provided.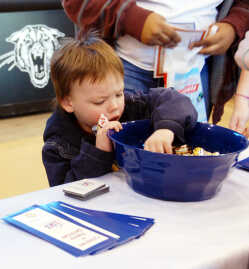 Booths and displays were set up by Arkansas Children's Hospital, Health South, Trumann Family Health Center, Mid-South Behavioral Health, Arkansas Dental Clinic, Health Source, Poinsett County Extension Service, Poinsett County Health Department, Arkansas Maternal Infant Program, Center on Aging of NEA and many, many more.
There were performances by Cheers Unlimited, Joey Perry Martial Arts, Fitness Boot Camp, Arkansas Cheer Company and Trumann's own senior high cheerleaders.
Especially popular was the Bernards Regional Medical Center booth, where people could have their weight checked, blood pressure taken and blood drawn. Each blood sample taken will be checked for anemia, glucose and cholesterol and results sent to that person's mailing address.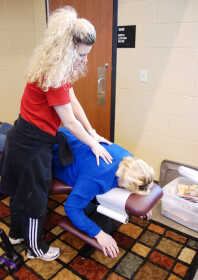 Another booth offered back and neck massages, and there was a machine to check for spine problems. For just $25, a person could make a doctor's appointment for an x-ray and medical advice, with proceeds donated to the Make-A-Wish Foundation.
Like any fair should, there were plenty of goodies being passed around at the different booths.
"This year we have Fiber One candy," said Like Isbell, handing Nellie Holt a sample. "It's Fiber One cereal, coated with Almond Bark. It's really good." Holt agreed.
Other food items available for sampling included caramel apples and sizzling stir-fry made with lots of vegetables. Other booths gave out bottles of water and candy for the children.
Another popular attraction was the Smoke House, brought by the Trumann fire department. The Smoke House is a trailer designed with detectors and smoke simulators to teach the community about fire safety.
In the kitchen, kids learn about stove and water safety. In the living room, smoke detectors are pointed out and each child can practice dialing 911. The bedroom contains a bed, which the children can pretend to sleep in as smoke fills the room. Once the smoke enters, they can practice opening the window and climbing out.
The Trumann police also brought a simulator. Yellow cones were placed in a winding maze which attendees could drive through on a golf cart. On their second attempt, however, the driver had to add "booze goggles" and drive the course again. This was to raise awareness of the risks involved with driving under the influence of alcohol.
Cody Peacock took a ride through the course.
"It was really weird wearing the goggles," he said. "It's kind of like wearing 3D glasses outside of a movie -- everything is blurry. It really makes you think though."
What the fair really offered the public was access to information. The booths all shared pamphlets and fact sheets raising awareness about health issues.
"I came out to the fair because it's all very interesting," said Donna Wagner. "I wanted to learn some more information about breast cancer, because I've had several friends who have had it. I really hope that Trumann keeps having it every year because it's really great for the community."