Wildcats riding high despite tough loss
Friday, February 25, 2011
The Wildcats played Westside in front of a packed house Wednesday in Trumann for a spot in the finals of the 4A-3 District Tournament. Trumann had to play three nights in a row and win all three contests to advance to the finals. They won the first two, but the third night found the Wildcats a little leg weary. They had 10 turnovers in the first half, hurting their cause.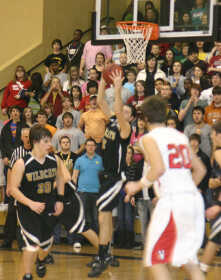 Trumann jumped out to the lead at 6:43 when Lee Conatser hit a three-pointer at ht top of the key. Fatigue began to set in, though, with a rash of five turnovers stalling the 'Cats' offense. With 1:17 left in the first period, Westside took an 8-7 lead.
Trumann's pressure defense saw Westside get into early foul trouble. A three-pointer by Matt Holt and another by Conatser on the following trip saw Trumann take the lead, 16-8. Turnovers and poor field goal percentages allowed Westside to take advantage of the tiring Wildcats. At the end of the third period, Westside held a 35-26 lead.
The fourth period was a tale of fouling and poor shooting. Both teams found themselves in foul trouble. The teams matched each other shot for shot with Westside finishing on top 48-39. "We were getting tired," said coach Skip Dulaney. "I could tell because our shots were coming up short. They played good and I am very proud of them. We will play the winner of the Heber Spring-Marianna game, probably Wednesday. We have to regroup and get ready for some strong competition"
Holt finished with 13 points to lead Trumann. Malcolm Washington added 10 on the night. Conatser and Jimmy Creecy had six points each. Dylan Dulaney rounded out the Wildcats scoring with three points.
Hunter Mickelson had 26 points for Westside. Westside would defeat Osceola Friday in the finals, coming away with the 4A-3 district crown.
The Wildcats were able to earn the invitation to the 4A East Regional Tournament, which got underway Wednesday at The Big House in Trumann. The Wildcats, the number four seed in 3A-3, were set to face 4A-2 champion Heber Springs Wednesday. With a win, Trumann would move on to a second round meeting with the winner of Osceola-Stuttgart at 5:30 p.m. Friday.