EPC squads run the table
Friday, February 25, 2011
East Poinsett County showed why they have the number one team in the state in both boys and girls in Class 2A as the Warriors and Lady Warriors rolled through the 2A-3 District Tournament last week at Caraway.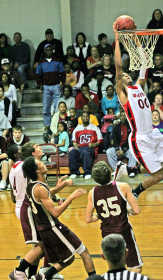 The EPC boys, who went undefeated in league play during the regular season, pounded Riverside 72-26 Thursday night in the semifinals before capturing the tournament championship with an easy 70-49 victory over second seeded Rector Friday night.
"Rector is really patient and makes you work hard on defense, and I thought we did a great job tonight," said EPC Coach Josh Hill. "We didn't take too many chances. We defended and rebounded the ball and we are pretty good when we defend and rebound. In the next two weeks we are going to get pushed, so winning by the margins that we did in the tournament concerns me somewhat. Hopefully, our guys will respond when the time comes," said Hill.
In the championship game, the Warriors (27-3) were led by A. J. Turner's 17 points while Rashad Madden added 16 more. Darius Barnes tallied nine, Jamar Sturdivant had six, Byron Ford and Wendell Pritchett netted five points apiece while Brady Jones chipped in four points. Bo Powell and Jori Ford scored three points each while Jaron Snyder added two. The Warriors hit five of nine foul shots and drained six three pointers.
Brandon Stevens scored a game-high 18 points to lead Rector.
EPC held a 19-10 lead after the first quarter and stretched its advantage to 35-22 at the half. The Warriors led 56-28 after three periods of play.
Madden scored 18 points in EPC's semifinal victory over Riverside. Turner added 13 while Sturdivant also hit double digits scoring 12.
All five EPC starters were named to the All-Conference team, led by Rashad Madden who received Most Valuable Player honors. Other All-Conference recipients included Darius Barnes, Byron Ford, A. J. Turner and Jammar Sturdivant.
Warrior Head Coach Josh Hill was named 2A-3 Coach of the Year.
The Lady Warriors also rolled to the championship, defeating Rector 75-36 in the semifinals before upending Buffalo Island Central 57-36 in the championship game.
East Poinsett County's Lady Warriors outscored Buffalo Island Central 20-3 in the fourth quarter to break open a tight game. EPC held a slim 10-9 edge after the first period and took a 26-22 advantage into the dressing room at halftime. The two teams battled on even terms in the third period with the Lady Warriors holding a 37-33 lead heading into the final frame.
The fourth quarter belonged to EPC, who held BIC without a field goal as the Lady Warriors defeated the Lady Mustangs for the third time in four attempts on the season.
Cassidy Qualls hit a pair of free throws to start the fourth quarter, pulling BIC to within 37-35, but EPC outscored the Lady Mustangs 20-1 the rest of the way in securing the tournament championship.
"This is the third straight win for us against them," said EPC Coach Bobby Lewallen, "but they have all been hard-fought battles. We bring out the best in them and they bring out the best in us. Since our first loss to them earlier this season, we decided to switch defenses and it has really paid dividends for us. Keyerah Young had an excellent night shooting. When it was a six point game midway through the fourth quarter, she hit a huge three that was really big. She is a good inside player but she's also one of our best three point shooters. I am very proud of the girls and looking forward to the regional tournament next week," concluded Lewallen.
EPC's tenacious defense forced BIC into 10 fourth quarter turnovers and 17 for the game. The Lady Warriors were led by Keyerah Young who scored 14 points while Terrika Madden and Brittany Ball added 12 points apiece. Teria Young scored seven, Alicia Ross tallied five while Whitney Ball added four. The Lady Warriors finished 16-31 from the foul line and hit three treys on the night.
BIC was led by Brittany Fowler who scored 14 points. Jenna Pike tallied nine, Taylor Owens and Cassidy Qualls contributed five points apiece while Emily Owens added three points. BIC hit nine of 18 foul shots and drained five three pointers.
Brittany Ball's double-double of 24 points and 18 rebounds led the Lady Warriors past Rector in the semifinals. Whitney Ball scored 13 while Terrika Madden chipped in 11 more.
Chelsea Drope led Rector with 16 points.
The Lady Warriors placed four players on the All-Conference team, including Brittany Ball, Terrika Madden, Keyerah Young and Teria Young.
EPC Coach Bobby Lewallen was named 2A-3 Coach of the Year.