$4,800 Grant For Event Focusing on Civil War
Wednesday, March 2, 2011
A $4,800 Arkansas Heritage Month grant was awarded to Parker Pioneer Homestead in Harrisburg through its non-profit program Save Our History.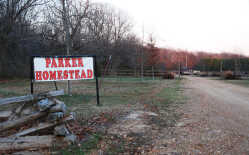 This year's theme is "Conflict and Consequence: Commemorating the Civil War."
Students from around the area, including Harrisburg's sixth grade class, will be able to attend the Civil War reenactment, which will take place May 9. Mary Ann Parker, of Parker Homestead, wrote this year's grant.
"Heritage Month School Days 2011 at Parker Homestead will walk students through specific Arkansas Civil War stations, including a battle, an encampment of soldiers and a war-ravaged town complete with townsfolk," she said. "Their day will start off 'in town,' rotating through six stations detailing what daily life was like for Arkansans struggling through the war.
"Stations include the blacksmith, who will tell students about how the war affected his business both positively and negatively," she continued. "He will demonstrate smithing for students and tell them about the importance of a blacksmith in each unit in the war.
"The Grist Mill operator will tell students about how his business was at first increased by the war since he was grinding extra corn for quartered troops."
Students also will meet a broom maker who has been wounded in battle and a war widow who travels with the troops aiding them with food and washing their clothing. The County Extension agents will be participating, in costume, for the children.
"They will represent landowners and demonstrate how land was cleared to make a farm," said Parker. "Of course they are very antsy, because troops have been seen in the area and they are worried about their crops. Students will have the opportunity to be 'drafted' into the farming industry, and each will have a go at the saw."
The students also will witness a full-scale battle, which will take place at 11 a.m., complete with cavalry and artillery. The students will be allowed to talk to the different soldiers after the battle to hear their individual stories.
"Students will have the opportunity to tour the encampment and question soldiers about their battle scars, war stories and travels," said Parker. "These questions will be guided by their worksheet, though students will inevitably have follow up questions as well."
Although the reenactment will remain true to the time, there will be some modern technology to help further the students' learning and understanding of the event.
"HMS has received a 21st century technology grant, which will enable teachers to completely document their students' experience on both a DVD recorder and digital camera," Parker said. "Each teacher will be able to create a DVD as well as a CDR with pictures of their students' field trip.
"The DVD can be shown to students, school boards, school administrators, parents and the like so that they can see first hand how important Arkansas Heritage Month is for not only students, but their communities.
"Save Our History, Inc., hopes to give students studying the Civil War a real inside perspective of the hopes, dreams, fears, and reality of the Civil War in Arkansas."