Trumann Rotary Discusses Shower of Fortune
Wednesday, March 2, 2011
The Trumann Rotary Club has announced its Shower of Fortune will take place from 5:30 to 8 p.m. Monday, April 4, in the Trumann Intermediate School cafeteria.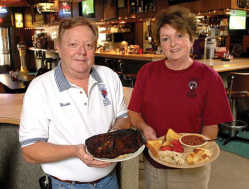 In a meeting this week, ticket sells, banners for sponsors and which companies might donate to the fundraiser were all topics discussed.
The theme for this year's Shower of Fortune is "Country Picnic." The event will be catered by the famous Strawberry's Restaurant of Holcomb, Mo., which, in addition to the restaurant in Holcomb, caters a large number of events over a large area. Strawberry's also sells its own barbecue seasonings, dry rubs and sauces.
Owner, Jerry "Straw" Holsten, began his barbecue journey by cooking for his wife and children in the 1970's with the guidance of his mother by telephone. Soon, Holsten was barbecuing and creating his own recipes for wet sauce. Throughout the 80's he focused on entering contests and perfecting his barbecuing techniques.
In 1994, Holsten won Grand Champion with his famous dry rub in the Show-Me State Bar-B-Que contest in Kennett, Mo. He later earned an invitation to the "Memphis in May" World Championship Barbecue Cooking Contest, where he finished in the top 10.
Strawberry's will be catering baby back ribs, chicken, chopped pork and pork steak as the choices of meat for the evening. Each ticket allows for one choice of meat. Also being served will be scalloped potatoes, baked beans, slaw, rolls with butter, coffee, tea and dessert.
The Trumann After School Cooking Program will help the Rotary Club by preparing appetizers for the fundraiser. The cooking class meets every Tuesday and Thursday from 5 to 7:30 p.m. to cook different meals.
The dress code is country casual and there will by live country music and line dancing as the entertainment for the night. There will also be multiple prizes and a cash jackpot giveaway at the end of the night.
Each ticket is $100 dollars and that includes dinner for two. All of the proceeds go to help towards farther community service brought by the Rotary Club of Trumann.
"We are accepting corporate sponsors, so if anyone is interested they can contact me at the H and R Block office at 483-7561," said Scott Richards.
Those who wish to purchase a ticket or who know of someone else who is interested may contact Jackie Ross at the Trumann City Chamber of Commerce at 483-5424.
"Remember to bring your ticket to the event because it has the jackpot number for the cash prize listed on it," said an organizer.