World War II veteran reminisces on experiences
Friday, April 8, 2011
Malcolm Patterson was born in 1921 in Yellville, Ark. From there he ended up serving with the Coast Guard out of Maine during World War II as the only Southerner on his boat. He later volunteered to go to the west coast to help deliver troops to Guadalcanal and was in the Battle of Leyte Gulf, the largest naval battle of World War II.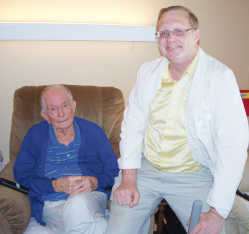 Patterson joined the Coast Guard in 1943 in Boston, Mass. He said he joined the Coast Guard to keep from being drafted as a foot soldier. He served in the Coast Guard for 35 months. When Patterson arrived at the base in New England, he met Jack Dolan, who instantly became his best friend.
"Forty-five or fifty of us unloaded at the base," Patterson said. "No one knew anyone. When we picked bunks, Jack Dolan picked the bunk above mine. We were buddies from then on.
"I was the only Southerner, but I didn't feel lonely," he continued." I was the center of attention. They laughed at the way I pronounced 'milk' and the way I spoke. I laughed at the way they spoke."
Another good friend Patterson made was Cappy Sergeant.
"Cappy's daddy was a lobster fisherman. He brought us short lobsters. I never ate many lobsters, but they're delicious," Patterson said.
Patterson remained in Maine patrolling the coast for around eight to nine months before heading west.
"The Southwest Harbor Coast Guard called for so many replacement men. Jack Dolan and I volunteered to go to the West Coast. We went by train. The trip from Maine to San Francisco took five or six days. We started a coastal patrol and helped deliver troops to Guadalcanal," he said.
Patterson said that while the troops they carried numbered in the hundreds, the Coast Guard crew on the boat totaled six.
"We were a small group. We knew each other very well. The troop Marines called us landlubbers, but they didn't make fun of us for long."
Patterson made the trip from California to the South Pacific 12 times. On the first trip, they dropped off 600 men. When they came back, there were 30.
"It was a terrible thing," he said. "We took the remainders back home. They were anything but a handsome bunch. They were the survivors. Many of them were shot up."
Patterson said the Battle of Leyte Gulf was "the end of the story for a lot of men and their families. We never got hit. One shot would have done us in. I wasn't scared. I felt like we'd make it."
After he got out of the service, Patterson married his wife, Donna, moved to Fayetteville, Ark., and had children. He had wanted to be a forest ranger, but one of his teachers told him that with a family he would have a hard time making ends meet and going to school.
So he took a course in vocational education and became a teacher. He said he thought he was taking the easy way out, "but actually it was hard."
He taught agriculture at Lepanto High School for 34 years.
"I taught everything. I taught how to weld and general things a farmer needed to know to survive," Patterson said.
Patterson sends pecans to one of his friends in the Coast every Christmas and receives a Christmas wreath from him.
"It was a wonderful life," he said. "I enjoyed it very much."