Lard charged Wednesday in fatal shooting of Trumann officer
Wednesday, April 20, 2011
Jerry Lard, 37, of Trumann was charged Wednesday morning in Poinsett County Circuit Court with capital murder in the fatal shooting Tuesday night, April 12, of Trumann police officer Jonathan Schmidt. He is being held without bond.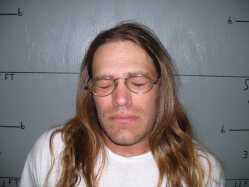 According to Arkansas State Police spokesman Bill Sadler, Lard was discharged Wednesday morning from an area hospital and transported by state troopers to Harrisburg for a probable cause hearing. Lard was injured in a shootout with Schmidt and backup officer Corey Overstreet and has been hospitalized since that time.
Lard also faces charges of being a felon in possession of a firearm, attempted capital murder, possession of a controlled substance and rape.
His next court appearance is set for Friday, April 29.
Detective Ron Martin of the Poinsett County Sheriff's Department told the Democrat-Tribune earlier this week that Lard has a felony rape warrant pending for an incident that occurred Oct. 31, 2010. Three children were removed from the home by the Department of Human Services and are still in DHS custody.
The Poinsett County Sheriff's Office looked for Lard for four months (November to February) and repeatedly talked to family members before issuing the warrant March 1 of this year.
According to Craighead County Detention Center records as far back as 2007, Lard has four current nonpayment of fines misdemeanor warrants.
In July of 2008, Lard served nine days in Craighead County Jail for contempt of court, did public service and faced a $100 fine.
According to Trumann District Court dockets, in September 2003, Lard was put on time pay for $210 for disorderly conduct and found not guilty of third degree battery and obstructing governmental operations.