Mousetraps takes students to World Finals
Friday, April 29, 2011
What would you build if you were given the challenge to create a car out of mousetraps? Fourth and fifth grade students at Trumann Intermediate were given that very challenge for this year's Odyssey of the Mind and are now taking their contraptions all the way to the World Finals in Maryland this summer.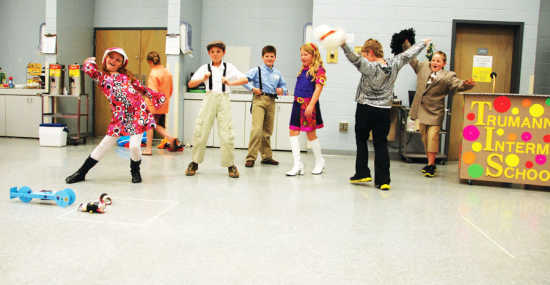 Odyssey of the Mind is a creative problem solving team. Trumann schools currently have a group available for fourth and fifth graders, as well as first and second graders. Each year the older group must pick a challenge presented in the guidelines and solve the problem they choose without the help of school officials.
Gina Montgomery, advisor for the group, said, "The group is judged on how well they follow the guidelines, but also in different terms like creativity, spontaneity, the ability to think quickly and work as a team."
Brent Henderson and Chase Montgomery also helped the kids for the contest.
"We didn't help them with the problem solving at all," said Henderson. "But we just made sure the rules were followed, bought the materials for all of the props and made sure they had everything they needed."
There are seven students on each team. Their challenge was to build a car propelled by mousetraps alone. Not only did the car have to be self-propelled, but it also had to pass a series of tests and obstacles. Four specific obstacles were presented in the guidelines and the students had to create two extra. This year's mousetrap car could turn, travel through a tunnel, raise a flag and even pop a balloon.
The students placed first, both at regional and at state, with their project. They also had to perform a skit for the judges, which had to be written by them and follow a theme. This year, the students had "70's Game Show" as their theme.
"Most of the students in this year's team were fourth graders in last year's team," said Gina Montgomery. "They went to World Finals last year, so this is their second year to go."
The first and second grade students did not compete, but preformed a problem-solving skit. Their problem was to create a skit where they had to sell an idea to Santa and include some ideas Santa would turn down.
Amy Henderson, who coached the younger group, said, "For them, this is more about introducing them to what Odyssey of the Mind is and how to problem solve, so that they can compete when they are a little bit older."
The students showed off their project Tuesday, April 25, and performed their skit for both parents and grandparents. The first and second graders also preformed their Christmas inspired play. Desserts were brought by students and parents to help raise money for their trip to Maryland.
"It was spectacular," said Denis Penter, grandfather of Jessie Penter, who played Funky Jay in the fourth and fifth grade skit. "Very amazing."
Georgia Henderson, grandmother of Reives Henderson, said, "They really outdid themselves. It was so challenging what they had to do. They built all the props themselves and wrote the play. It took so much time and effort. I will be cheering them on in Maryland."