Harrisburg digs its way to a new garden
Monday, May 16, 2011
Harrisburg Middle School celebrated its new Delta Garden Study grant, sponsored by the USDA and Agricultural Research Service, on Tuesday, May 10, by having a ribbon cutting and breaking ground, where soon their new garden will be located.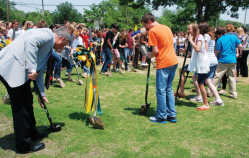 Students and faculty took shovels and dug up their first piece of earth to represent the beginning of the garden project.
The new garden, placed at the front entrance of the school, along the highway, that will not only bring benefits to the students and faculty, but the community as a whole.
Ryan Norman will be Harrisburg's full-time Garden Program specialist and will begin working with the school in the fall. Harrisburg will also receive curriculum aligned to Arkansas State Frameworks for Science, Math, Literacy and Physical Education; seeds, plants, equipment and tools to maintain a one acre garden; a chicken coop and chickens; worm boxes and worms for vermicomposting, and support from staff of Delta Garden Study.
Karli Saracini, principal of the Harrisburg Middle School, said, "We are so excited about this grant. It's going to have a direct impact on the community and a lasting effect on our students."
Saracini explained that because Harrisburg is such a small school committee, they knew it would take more than just a few from the school to receive the grant. That is when the community became involved.
"The response has been amazing," said Saracini.
Emily English, Research Associate Intervention Programs Manager with the Delta Garden Study, explained the program will strive to fight childhood obesity and offer the students countless experiences and educational tools.
"Students will learn how to build raised beds, harvest fruits and vegetables, check soil conditions and build and maintain a green house," said English. "This program is designed to align with multiple curriculums."
The program will be implemented with the hope of increasing physical activity and the intake of fruits and vegetables in the students' diets. The garden is also symbol of unity in the community, of residents in Harrisburg working together to live healthier lifestyles.
"There will be three more schools who will receive a garden this year," said English. "When those start, we will have a total of 20 gardens, making us the largest garden study in the nation."
Danny Sample, Harrisburg Superintendent, said, "This is a lifelong opportunity, not only for healthy nutrition, but possible careers."
Members of the Delta Garden Study will be back in August to check up on the progress of the garden. They will also keep the community updated with pictures and stories of progress with their monthly newsletter and on their website at www.arteengarden.com.