Marked Tree Rotary Club discusses projects
Saturday, June 11, 2011
The Marked Tree Rotary Club is deciding what future community projects they want to tackle. The club's last project was to plant flowers at Marked Tree Elementary School, which was completed through a District Simplified Grant.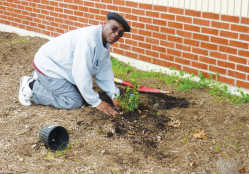 Bonnie Thompson said the club has received lots of compliments on the flower bed.
Thompson led the Rotary group in a discussion of potential projects. Some ideas included reading to students or being lunch buddies at the schools, helping with Youth Outreach Ministry in some way, volunteering for the Delta Area Museum or Southern Tenant Farmers Museum, visiting residents or doing landscaping projects at Three Rivers Nursing Center, or doing something with the empty lot on Frisco Street.
Thompson talked about an empty lot in Helena that had been a burned out building until people turned it into a nice park area. Some ideas for the lot on Frisco Street discussed by the club included cleaning it up and installing park benches, picnic tables, planting flowers and shrubs, turning it into an area for a farmers' market or even putting in a stage for music.
Nothing is set at this point. The club will see what most people are interested in doing and proceed from there.
"Part of Rotary is community service," Thompson said.
The club also got the finished Rotary Club sign to go by the flower bed at Marked Tree Elementary. Bill Stanley said a metal stand for the sign was contributed by Allied Systems and Planning, which does engineering and prefabrication work.
"They got right on it and did a great job," Stanley said. "You couldn't ask for a better deal than that."