Lake Poinsett State Park introduces new superintendent
Saturday, June 11, 2011
Vicki Trimble has spent most of her life working for Arkansas State Parks and has always enjoyed the beauty of the Harrisburg area, so it was with great pleasure that she took the new superintendent job at Lake Poinsett State Park about a month ago.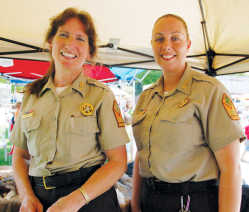 Trimble began her career as a naturalist at Village Creek. She worked there for over 18 years before transferring to Lake Frierson State Park as the park's assistant superintendent.
"I was familiar with the area before I moved," said Trimble. "There are so many warm, genuinely nice people here. I was excited because I knew most of the staff already."
As an administrator, Trimble handles the paperwork of the park, but she says she finds the greatest fulfillment in working with children.
"When the kids get something out of a program or do something they have never done before, that's wonderful to see," said Trimble. "Most state park workers have a passion for working with children -- it makes the long hours worth it."
Lake Poinsett State Park was founded in 1963 and holds a 640-acre lake. The park has grown tremendously throughout the last few years, adding more and more recreational opportunities for the community to take part in. The lake itself contains multiple boat ramps and plenty of crappie, bass and catfish for those who love fishing.
There are 29 campsites located at the park and one pavilion that is screened. The pavilion can be used for anything from church gatherings to family reunions. There is also a 1.1-mile hiking trail around the lake. The park also includes picnic and play areas. Park attendees can even rent a kayak, canoe or fishing boat to take out on the lake. The park also offers fishing equipment, both to rent and buy.
Lake Poinsett State Park offers a wide variety of events throughout the year. One popular event is the Dutch oven workshop. During the class, participants learn how to cook an entire meal in a cast-iron Dutch oven. There is even an advanced workshop for those who have been through the first, offering more recipes and techniques.
"We do a lot of school education," said Kathy Evans, assistant superintendent of Lake Poinsett State Park. "Kids love the animal programs we do and, with these programs, we teach a lot of local history. All of this is free to the schools. State taxes go to help pay for the education programs we provide."
Lake Poinsett State Park also works closely with local Boy Scouts and Girl Scouts to help them earn badges and with other scout projects. The park offers many activities for children throughout the year. One event that took place last month was a horse-riding day, where children had the opportunity to ride "kid-broken" horses, with the safety of a bike helmet, in a corral. Every year the lake also hosts a Kids' Fishing Derby.
The park will offer a geocaching (global, technology based scavenger hunt) class from 6 to 8 p.m. today (Thursday, June 9) to learn the basics of using a GPS and techniques to use during the hunt. They will then host a free geocaching event at the lake from 9 a.m. to 2 p.m. Saturday, June 11.
Classes, cooking workshops and festivals pick back up in the fall, beginning in August with a hunter education class.
Those who want more information on upcoming events or Lake Poinsett State Park may call (870) 578-2064.