Snake causes more than power outage in Trumann
Saturday, June 11, 2011
Just before 5 a.m. Wednesday, June 1, electric power to Trumann, Harrisburg and Marked Tree was interrupted to all three substations.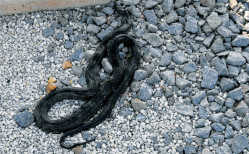 The cause of the problem was a snake that came in contact with the high voltage lightning arrestor and bushing on top of the Trumann substation transformer, creating a fault.
Since the fault occurred on the high voltage side of the transformer, the transmission system protection devices sensed the fault and opened sectionalized switches in the area, disrupting the power supply to the Harrisburg and Marked Tree substation.
Power was restored to Harrisburg and Marked Tree about an hour and a half later. Most of Trumann received power by late afternoon, but not before affecting many residents and businesses.
Neal Vickers, owner of Trumann Auto Parts, said he lost close to $1,000 from the all-day power outage.
"We were running with a handicap," said Vickers. "We weren't at full capacity. We used a generator to run the lights and equipment, but we didn't have air."
Vickers ran his store for a while on power from the generator, but because generators are not a clean source of energy, one of his computers was destroyed.
"I lost some equipment because we ran on generators, but we couldn't afford not to," he said.
Vickers also is president of the Trumann Chamber of Commerce.
"As a member of the Chamber, I surveyed streets. Highway 463 was dead. All of the restaurants and stores were closed."
Michelle Sanders of Couch's BBQ said the heat was the main contributor to hindering running at full capacity at the restaurant.
"We served breakfast, but closed by 10 that morning because of the heat in the kitchen," said Sanders.
She said the restaurant lost some food, like fish and other meats, due to the power being off for eight to nine hours.
"The community was really great though," said Sanders. "Generally the customers understood the situation. We ended up having a busy dinner."