Marked Tree Chamber Afterhours
Thursday, August 4, 2011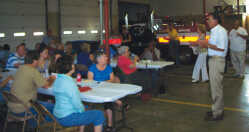 Community members filled the Marked Tree fire station Thursday, July 28, to mingle during the Marked Tree Chamber of Commerce Afterhours event.
"We want to try to grow our community to bring industry in," said Chamber president Jeff Bookout. "It will take communities working together. If one gets a business, we'll all benefit."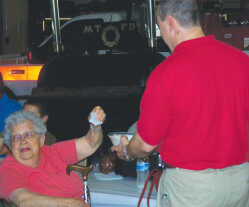 Mayor Wayne Nichols also spoke about some of the advantages Marked Tree has.
"We have a great school, we have the advantage that we're on the railroad, and we're getting the Awesome Products plant," Nichols said. "If you watch the towns that are doing good, they have a strong Chamber of Commerce."
The Chamber also gave out numerous door prizes, including hats, candles, t-shirts, water bottles, coffee mugs and flowers arrangements.