Pre-schoolers Storytime next week
Friday, September 9, 2011
The Marked Tree Library, along with the Progressive Women's Club of Marked Tree, is offering a special Pre-Schoolers Storytime beginning Wednesday, Sept. 14, from 10 to 11 a.m.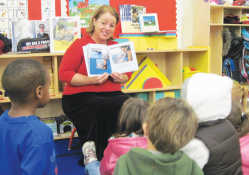 It's the end of summer and now that school is back into full swing, the library wants to give pre-schoolers a program designed just for them to promote a love of reading. Each month will have a theme and a local children's author to share stories, songs and surprises.
The month of September local children's author and composer Carol Dabney will share songs on her ukulele and abook she has written about Sea Life Park. Also, there will be books available for children to check out on the theme of the month, which is"Summertime" and"Animalsof the Sea". Everyone is welcome, and there is no charge.