Labor Day at Lake Poinsett a blast for children and adults
Friday, September 9, 2011
The Lake Poinsett State Park hosted Labor Day events filled with family fun on Sept. 2, 3 and 4.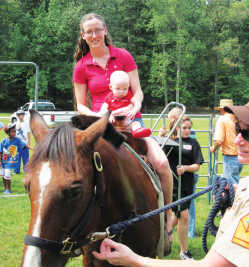 The staff at Lake Poinsett State Park invited all residents of Poinsett County and the surrounding areas to join them in celebrating Labor Day weekend.
The park staff had an informative and fun tour of all that Lake Poinsett has to offer on Friday, Sept. 2, during a Sunset Kayak Cruise.
"The kayak tour was incredible," said Vicki Trimble, Lake Poinsett State Park superintendent. "The water was like glass, there was a crescent moon out, geese were flying overhead and fish just jumping out of the water. It was an absolutely perfect night for a kayak tour."
What better way to spend the day at beautiful Lake Poinsett than by horseback? On Saturday, Sept. 3, Lake Poinsett hosted Kids and Horses in the Park to continue the Labor Day festivities. The staff offered hand-led horseback rides by experienced personnel. The children even had a special treat of kettle-cooked popcorn.
"There were probably 45 kids who showed up to ride horses this year," Trimble said.
Later that day, children joined the park rangers for fun campfire treats in a tasty program designed for kids and the young at heart with the Campfire Goodies program. There, they learned how to make chocolate biscuits and kettle corn.
On Sunday, the park offered a Historic Games program, which allowed the residents of Poinsett County to catch a glimpse of the lives of children who lived in the area hundreds of years ago. The staff offered Native American and pioneer games to celebrate the rich history left behind.
"The Labor Day weekend was a blast," Trimble said. "The campground was full, everyone stayed safe and had a great time."
Lake Poinsett State Park is one of the 52 state parks administered by the State Parks Division of the Arkansas Department of Parks and Tourism. The 135-acre park offers camping, a boat launch ramp, a standard pavilion, picnic sites, restrooms and bathhouse on 640-acre Lake Poinsett.
Along with the visitor center and gift shop, the park offers two nature trails and year-round interpretive programs. For more information about the yard sale or any other park events, contact the park at (870) 578-2064 or visit www.ArkansasStateParks.com.