District governor speaks at Marked Tree Rotary
Friday, September 30, 2011
Increasing membership and finding ways to get more young members are two goals District Governor Paul Roberts wants Rotary clubs to focus on this year, he said when he visited the Marked Tree Rotary Club last week as guest speaker.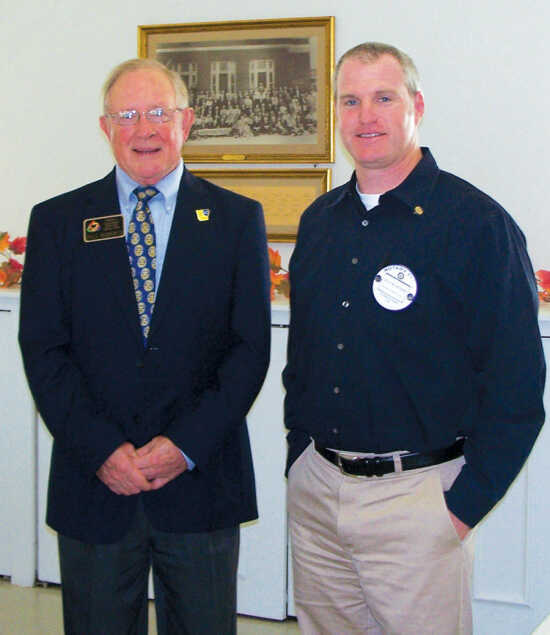 Roberts is District Governor of Rotary District 6150, which encompasses 41 clubs in central and eastern Arkansas. The district is made up of 2,400 Rotarians, down from 2,500 five years ago. Roberts said that membership is down across the U.S., but all other countries' membership is up. One of his goals as district president is to increase membership by 200 district-wide.
Another goal is to find ways to get more young people involved in the club. He said there are currently 385 people listed in the district as under the age of 45, but added that over 1,000 did not fill out the date of birth. He said a new generations committee has been formed to come up with ways to increase younger membership and there will be a district banquet for young people.
He also noted the difficulty in having older folks recruit younger members. "You have to send young people to recruit young people," Roberts said. "Us older guys don't do Twitter or Facebook."
Another goal for the district is look at what members have donated to humanitarian programs such as PolioPlus and see how close members are to becoming a Paul Harris Fellow. For those who are close, Roberts recommended sending out letters letting people know that information because many people may not be aware of exactly how much they have donated. Roberts hopes to gain 250 Paul Harris Fellows in the district this year.
Robert also spoke about international programs Rotarians can participate in. One example was a water project in North Thailand sponsored by Little Rock Rotary Club. The project brought fresh running water to 2,000 school kids.
Rotary International's theme for this year is "Reach Within to Embrace Humanity." "This is something that comes from the heart, something every Rotarian does, but you don't think about," Roberts said. "When we come together, we do things to help people. When you've helped someone who's not as fortunate as you are, that's when you become a Rotarian. A Rotarian always takes pride in their business or profession. Service above self is something we really live by."