Veterans looking for donations to bring memorial wall to Tyronza
Monday, November 14, 2011
In 2008, The Wall That Heals, a traveling three-fifths replica of the Vietnam Veterans Memorial, came to Marked Tree. Now a group of veterans with the 1st Cavalry and the Bring the Wall to Tyronza Committee are working to bring the wall back to Poinsett County for Tyronza's Stars and Stripes Festival.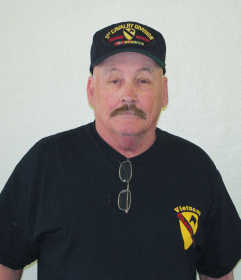 Sergeant Paul Sicca, from Westminster, Md., is one of the veterans who has been pushing for Tyronza to get the wall, but in order to do that, the Bring the Wall to Tyronza committee needs to raise $10,000.
"This can only happen with your kindness and help. Please bring us Vietnam Veterans back home to our new home Tyronza, Ark. This is where friends meet friends and share the good times and where friendship comes together again," Sicca said.
The committee already has two fundraisers scheduled. One is a memorial Christmas Tree. A Christmas ornament can be purchased to be displayed on the tree from Dec. 2 through Jan. 2. The cost of ornaments ranges from $10 to $15.
The committee is also selling t-shirts. The shirts cost $15 each. They are also looking for 60 sponsors whose names will be printed on the back of the t-shirts. The cost to be a sponsor is $50, which will get sponsors a t-shirt with their name printed on the back.
After they visited the wall in Marked Tree in 2008 and received such a warm welcome, the group of veterans Sicca belongs to have adopted Poinsett County as their home away from home. They come to the Cotton Pickin' Jubilee and the Stars and Stripes Festival every year. They hope that when they come next year, they will get the chance to see the wall again.
"Let The Wall That Heals bring peace and joy to all, and with your help and support we can once again come together, not as strangers, but as friends," Sicca said. "Let America see that this great state of Arkansas welcomes us back home. God bless America and the wonderful people of Arkansas."
"This Stars and Stripes Celebration is not just for us Vietnam Veterans, but for all to see. Come meet us and join us for this special occasion. We are looking forward to meeting you and the good and wonderful people from the great state of Arkansas." Sicca said.
Donations can be sent to David Wood, head of the Bring the Wall to Tyronza Committee, at P.O. Box 218, Tyronza, AR 72386. Wood can also be reached by phone at 870-243-4914.