Lady 'Cats in Classic
Thursday, December 22, 2011
Trumann won one of three games they played in the Christmas Classic being held at Brookland. The Lady 'Cats lost to Gosnell this past Friday, 47-43 and then were downed by Rivercrest, 68-48 this past Saturday. The Lady Wildcat righted the ship beating Piggott this past Tuesday, 41-37.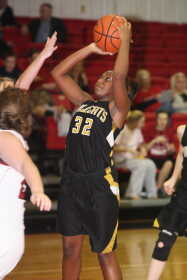 Jazmye Nixon led Trumann in scoring against Gosnell and Rivercrest. She netted 18 points against Gosnell and 16 against Rivercrest.
Hannah Walters netted 17 to lead Trumann in the win over Piggott. Nixon added 14.
The Lady Wildcats will play next in the NEA Invitational held at ASU. The Lady Wildcats will play the Lady Greyhounds of Marmaduke at 10:30 a.m Friday, December 23.