Wildcats on winning streak
Thursday, December 22, 2011
Trumann is on a three game win streak and will carry that streak into the NEA Tournament. The Wildcats (8-2, 2-1 4A-3) had victories over Highland, Newport and Brookland in the past week.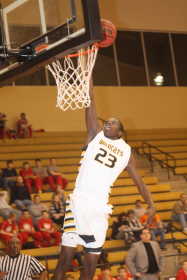 In the Highland game, five Wildcat players reached double figures as Trumann posted a 77-47 win this past Thursday in Trumann. Lee Conatser led the way for Trumann scoring 20 points. Matt Holt followed him with 17, Malcolm Washington had 14, and Dylan Dulaney and Nate Maxwell each had 10. Washington added 10 rebounds and six blocks on the night.
Trumann's junior high boys' lost a double overtime thriller, 39-37.
Against Newport, Washington and Maxwell both posted double-doubles to lead Trumann to a 64-57 victory this past Saturday at Newport.
Washington had 19 points and 11 rebounds as Maxwell added 15 points and 10 rebounds. Matt Holt and Lee Conatser chipped in 12 and 11 points respectively.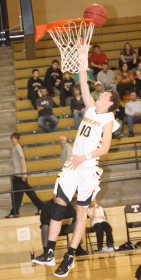 In the junior high game, Grayson Dye hit a shot with eight seconds left in the game to send the Junior Wildcats to a 32-31 win. Dye led in scoring with 14 points.
Trumann hosted the Brookland Bearcats this past Tuesday in a 4A-3 conference game. The Wildcats had a huge night from Malcolm Washington as Trumann won the battle of the 'Cats, 61-49.
Washington scored 29 points while grabbing 13 rebounds in the game. He also added six blocks on the night. Nate Maxwell, Lee Conatser and Matt Holt all added 10 points apiece. Maxwell pulled down 10 rebounds too.
The Junior Wildcats lost 40-36 in their game. Grayson Dye scored 12 points to lead Trumann.
Trumann will play its first game of the NEA Tournament against Highland on Wednesday, December 21 at 7:30 p.m.