Lady Indians fall in finals
Thursday, January 5, 2012
Marked Tree's Lady Indians finished as Division I runner-ups in the NEA Invitational girls' tournament this past Friday. The Lady Cougars of Rector avenged an earlier season loss to Marked Tree handing them a 52-45 setback.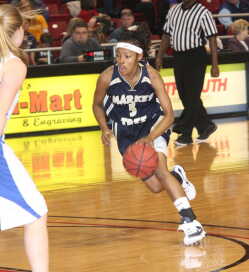 Rector jumped out to a 15-9 lead in the opening period. Poohnu Perry scored a basket right before the first quarter ended to set the score at 15-11 in favor of Rector.
The Lady Indians came out the second period and went on a 9-0 run to take their first lead of the game 18-15. Rector answered with four points to retake the lead at 19-18. Rector extended their lead to 25-20 with just over two minutes left in the first half. Lexi and Poohnu Perry both hit baskets in the last 10 seconds of the period to cut the lead to one at half, 25-24.
The third period was a back and forth game as the lead changed several times. Marked Tree (11-5) outscored Rector 12-10 in the third to set the score at 35-32 after three periods.
Rector opened up the fourth period with a 5-0 run to make the score 40-32 before Poohnu Perry hit a three-pointer to cut the lead to 40-35 with 6:36 left to play. The Lady Indians outscored Rector 8-4 over the next three minutes to get to within four, 44-40, before Jay Perry fouled out with 3:20 to play. Quanny Perry hit a three-pointer to make it a two-point game, 45-43 with 2:07 left in the period. Poohnu Perry fouled out with 1:30 left in the game with the score 48-45 Rector. The Lady Cougars hit four free throws in the final minutes of the game to set the final score.
Jay Perry led the Lady Indians in scoring with 11. Caflora Hillis and Lexi Perry each added nine for Marked Tree. Lexi Perry grabbed 11 rebounds on the night.
"They (Rector) were clutch at the end, hitting their free throws down the stretch," Marked Tree coach Derik Drewett said after the game. "We got in some foul trouble at the end, took away some of our ball handlers. It's a learning experience."