Bay downed in title game
Thursday, January 5, 2012
Bay took on an undefeated Cedar Ridge team in the finals of the boys' Division I NEA Invitational tournament this past Friday. Cedar Ridge got out fast, Bay got close late before a technical foul sealed their fate as the Timberwolves went on to a 54-39 victory.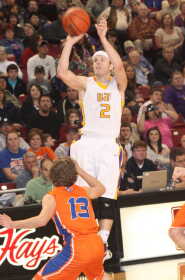 Cedar Ridge opened the game on a 12-3 run before they extended that lead to 17-7 after the first period.
Bay scored their first points of the second period with 6:12 left making the score 21-9 Timberwolves. Bay outscored Cedar Ridge 7-6 the remainder of the period but was down 27-16 at the half.
Bay came out firing to start the third period. Led by Gunner Freeman's four three-pointers, the Yellowjackets cut the led to 32-28 with 4:12 left in the period. Cedar Ridge answered to extend the lead to eight. Cedar Ridge maintained that lead as the period ended with Bay down 41-33.
Tyson Oliver opened the fourth period with a basket to cut the lead to 41-35. Oliver scored again to make it 41-37 with 5:13 left and was fouled on the play. Bay's Brad Craft was whistled for a technical during this play. Oliver hit his free throw to cut the lead to three. Bay scored one point the remainder of the game as the Timberwolves claimed the title.
Freeman and Oliver both had 13 points for Bay on the night.
"Defensively we are not where we need to be right now, not rotating and communicating with each other," Bay coach Brad Brannen said after the game. "We made some adjustments at half that seemed to work, but after the technical our scoring stopped."