Lady Cardinals ousted by Rector
Thursday, January 5, 2012
Weiner's Lady Cardinals and Rector's Lady Cougars met in the semi-finals of the girls' Division I NEA Invitational tournament. Rector got the better of the Lady Cardinals holding on for a 61-57 victory.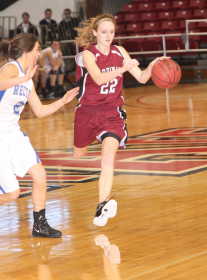 Weiner jumped out to an early 7-0 lead and led 17-10 before Kaci Mack hit a three-pointer to give the Lady Cardinals a 20-10 after the first period.
Rector had a big second quarter outscoring Weiner 22-18 to cut the lead to three as the teams went to halftime with Weiner leading, 35-32.
Kaci Mack hit a three-pointer with 5:46 left in the third to give Weiner a 43-34 lead only to see the Lady Cougars fight their way back to trail by only one, 48-47, to end the third quarter.
Rector took their first lead of the game less than a minute into the final period at 49-48. Weiner retook the lead at 54-52 before a three-pointer with just a little over three minutes remaining gave Rector the lead for good on their way to the 61-57 win.
Weiner was led in scoring by Kaci Mack with 16 points. Katelyn Junyor added 15 for the Lady Cardinals. Paige and Peyton Craft both posted double-doubles on the night for Weiner. Paige had 13 points and 14 rebounds as Peyton scored 10 points and also grabbed 14 rebounds.
"Foul trouble hurt in the game as we gave way to many," Coach James Halitzka of Weiner said after the game. "Our foul shooting hurt us tonight."