EPC downs Trumann at the buzzer in NEA Division II title meeting
Thursday, January 5, 2012
In possibly the best high school basketball game this reporter has ever watched, the EPC Warriors' Jammar Sturdivant hit a three-pointer at the buzzer to give EPC a 68-65 victory over Trumann in the finals of the boys' Division II NEA Invitational this past Friday night. This was EPC's third straight NEA title.
Trumann (11-3) raced out to an 8-0 lead before EPC cut that lead to two on back to back three-pointers from Strudivant. Both teams played hard the remainder of the period as the lead changed hands several times. The Warriors took a 17-16 lead after one.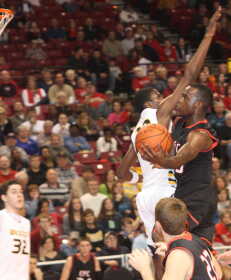 EPC (9-1) went up five with 5:00 left in the second period before Trumann fought back to cut the lead to one with 4:09 left in the half. Jori Ford hit a three-pointer to put EPC up by seven with 2:07 left in the second period. Matt Holt canned a three-pointer with 18 seconds left in the half to give the Wildcats a 34-33 lead only to see Byron Scales hit a shot right before the buzzer to send EPC to halftime with a 35-34 lead.
The third quarter opened with both teams trading baskets before EPC went on a little run to go up 46-38 with 4:21 to go in the period. Trumann used a 9-4 run to close within 50-47 as the third period came to an end.
The fourth quarter was just as close as the third with both team trading baskets and the lead changing several times. Trumann led by three twice in final three minutes but could not put the game away. A.J. Turner had a tip-in with just over a minute left to make the score 63-62. Malcolm Washington scored a basket for the Wildcats to push the lead back to three with under a minute left in the game. Sturdivant tied the game with 38 seconds left to play as he hit a big three-pointer. Trumann was called for traveling giving the ball back to EPC. Sturdivant took the inbound pass with 3.6 seconds left in the game, dribbled the ball a couple times before shooting a long three-pointer that found its mark giving the Warriors the title.
Sturdivant led EPC with 31 points on the night. Turner added 14 and Ford finished with 11.
Matt Holt scored 18 for Trumann. Nathan Maxwell pitched in 14 while Washington tossed in 13.
"Trumann is really good and this was a great game," EPC coach Josh Hill said after the game. "I saw a few things we can work on and get better from this game and that's all due to Trumann."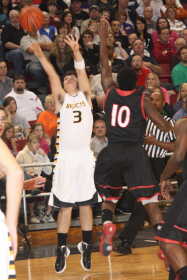 "The kids did a great job all night," Trumann coach Skip Dulaney said following the game." "A great player made two huge threes to beat us. Sturdivant is one of the best players in the state."