'Cats split conference games
Thursday, January 12, 2012
Trumann played two 4A-3 conference games this past week winning one and losing one. They posted a non-conference win in between the games. They lost to Pocahontas last Thursday 79-71 in Trumann. The Wildcats downed Harrisburg last Friday 77-54 at Harrisburg before knocking off Valley View 71-56 this past Monday at home.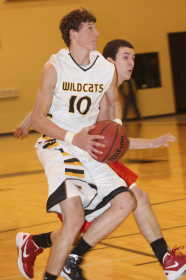 Against Pocahontas, Malcolm Washington had a big night with 31 points and 11 steals. Lee Conatser pitched in 17 while Dylan Dulaney had 10 points and Matt Holt dished out 10 assists for Trumann (12-4).
Trumann lost the junior high game, 38-32.
Trumann (13-4) got back in the win column as they traveled to Harrisburg and picked up a 77-54 victory.
Five Wildcats scored in double figures on the night with Washington leading the way with 15. Nate Maxwell added 12, A.J. Winningham scored 11, Eichii Moore and Westen Gilliam each had 10 on the night. Winnigham pulled down 10 rebounds.
Brayden Honeycutt led the Hornets with 18 as Jarred Edwards and Mitchell Eaton both tossed in eight.
Trumann won the junior high game, 26-23.
Trumann hosted Valley View this past Monday night and came away with a 71-56 4A-3 conference win.
Washington had a triple-double for the Wildcats (14-4) as he scored 25 points, grabbed 12 rebounds and had 11 blocks on the night. Holt and Dulaney tossed in 17 and 16 points respectively on the night.
Trumann's junior high boys posted a 47-27 win.