Renaissance Festival brings royal good time
Monday, January 16, 2012
On Dec. 15, just prior to Christmas break, the Gifted and Talented Program at Trumann held a Renaissance Festival, which was a fantastic success.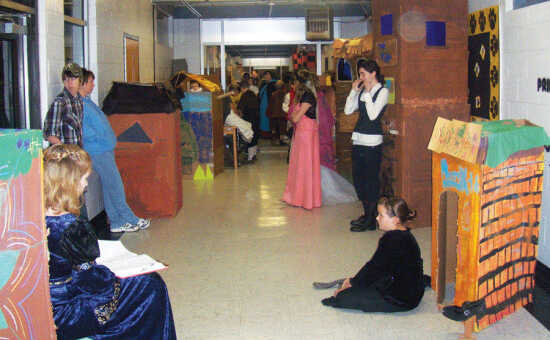 "The Renaissance Festival was a very educational and creative experience for our GT students," said Kimberly Stevens, the new Gifted and Talented Trumann district coordinator. "The GT students at the intermediate level had to do a three page research paper with a reference page, create a poem about their chosen Renaissance character, incorporate it into a group power point presentation about the Renaissance andcreate a costume and a dwelling or house prop for the Renaissance village that was created in the front hall of the school."
The Trumann cafeteria was turned into a castle and Mr. Benson and Mrs. Graham were named as royalty at the event.
"We servedsmoked turkey, dressing, smoked pork tenderloin, smoked ham, rolls, pies and the finest Kool-aid available," said Stevens.