Howell speaks on new clinic, dangers and signs of glaucoma
Monday, January 16, 2012
Local optometrist Dr. Angela Howell spoke recently to the Trumann Rotary Club about her new clinic and gave information on glaucoma.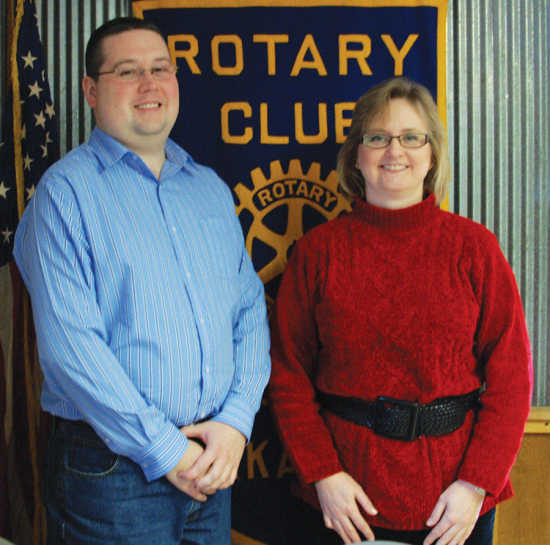 Howell is a graduate of Southern College of Optometry in Memphis and has been in practice for over 15 years. Howell also works at two other locations in Piggott and in Paragould. Her office in Trumann is located at 807 West Main Street and she works Monday and Wednesday at that location.
Along with Howell, Hayden Sowers, a board-certified optometric physician, also works at the Trumann location.
"We opened in August and couldn't be happier here," said Howell.
Howell stays busy with her clinic work, but also is a member of the Lions Club and has taken three trips, including two to Costa Rica to help deliver over 1,000 pairs of glasses to children. Howell also has two sons and currently lives in Piggott.
Howell sees many eye problems in her line of work, but one eye problem she emphasized is glaucoma.
Glaucoma is an eye disorder that leads to the damage of the optic nerve. Permanent vision damage can be sustained from glaucoma if left untreated.
Howell said glaucoma is one of the major causes of blindness in people over 40 and that certain groups of people, such as those with a family history of glaucoma, those who are diabetic, African Americans and those who are nearsighted, have a higher chance of having glaucoma problems. She also said African Americans are four times more likely to go blind from their glaucoma problems.
"Eighty percent of glaucoma problems occur because of the drainage system in the eye," said Howell. "Fluid in the eye drains too slowly, which builds pressure and damages the optic nerve."
This form of glaucoma can normally be treated with pills or eye drops, which help with the drainage and pressure buildup, she noted. Conventional surgery also can be used if the less invasive measures do not work.
Although there are treatments available, many do not use the resources simply because they do not know they have glaucoma.
"It can go untreated at first because it is a gradual process," Howell said. "But once the damage is done it cannot be reversed. An eye exam is the only way to know. During the exam we check the patient's field of vision and the pressure level in their eye."
Howell suggests that those who are 40 and over, especially those in the higher case groups, should have their eyes checked every one to two years.
For more information on glaucoma, visit Dr. Howell's website at www.drangelahowell.com/eye_care/index.html or to make an eye appointment call 870-483-0096.