Nine pound turnip astounds gardener
Monday, January 16, 2012
James Payton of Marked Tree may have just started gardening, but that doesn't mean he is starting out small.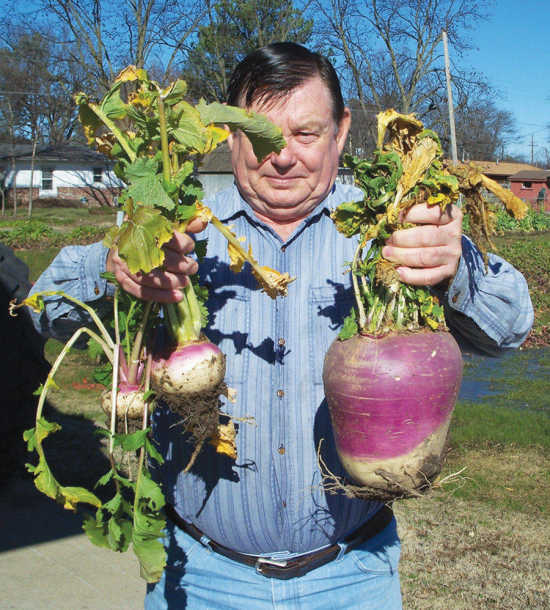 "I wanted to grow some big turnips, so I cleared an area and put about half a tablespoon of tomato fertilizer in," Payton said. "I watered it and babied it along."
But by New Year's Day, one turnip surprised him.
"We thought it was a basketball at first," he laughed. "I called my wife and she said, 'Lord, that's a turnip!'"
They pulled it up because they were afraid it would freeze with the temperature drop predicted. Payton then weighed the turnip, which came in at nine pounds.
Payton started his gardening hobby in the past couple of years to give him something to do during retirement.
He retired five years ago after open-heart surgeries. His sister, who lives in Virginia, let him use her tractor to get started, with the promise that he lets her take some vegetables when she visits because she has no room for a garden.
"It's just a big toy," he said. "It's something to keep me busy."
Payton said that in addition to turnips, he has grown peas, corn, squash and few tomatoes. Since he grows too much for his wife and himself to eat alone, members of the community often drop by to gather some greens for themselves.
"I didn't realize how big it had gotten," Payton said. "It's a wonder someone else didn't pull it."
Initially Payton wasn't sure what he wanted to do with the turnip. "I don't want to cook it, and you can't preserve it," he said. "I want people to see it."
In the end, he decided to put it on display in Clara's Midway CafÈ in Tyronza to show it off.
"I'm going to try to grow another crop. If I do as good as this, I'll do good," Payton said.