Schmidt says goodbye to Trumann Post Office
Monday, January 16, 2012
Kathy Schmidt began her work at the Trumann Post Office on Oct. 18 1980 and has enjoyed it tremendously. Now though, she says it is time to retire.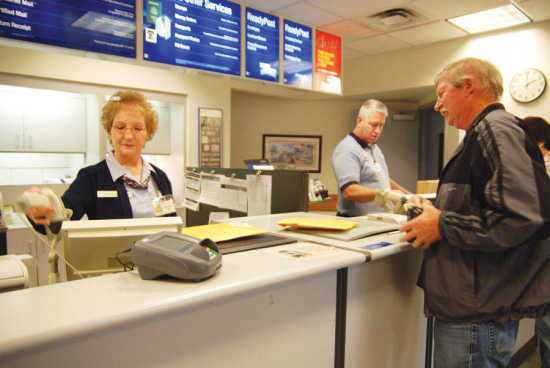 "I have worked under nine Postmasters and 11 Officers in Charge," said Schmidt. "Most of that has been as a Distribution Window Clerk, but at one time I was a Mail Clerk and carried mail."
Schmidt graduated Central High as a valedictorian and has lived in Trumann all of her life. Before starting work at the Trumann Post Office, Schmidt worked at the Forrest City Memorial Hospital as a paramedic.
She is married to Steve Schmidt and has a son named Logan, along with two stepchildren named Kristy and Courtney.
Schmidt said that when she first began her job, she was the only woman at the post office.
"All I heard was talk of football," laughed Schmidt. "For years I was the only lady and the men swear I didn't speak one word for 10 years. How could I, when all they talked about was football?"
Schmidt began working at the old Trumann post office and relocated to the newly built one in 1998.
Friday, Dec. 30 at 5 p.m. was Schmidt's last day at work. She said she had mixed feelings about leaving behind the Trumann Post Office.
"I love working with customers here," said Schmidt. "My co-workers and I are like family and we mean a lot to one another. I'm looking forward to spending more time with my family and two granddaughters, but there are a lot of people I am going to miss."