Free glaucoma screening held in Trumann
Monday, January 16, 2012
Friends of the Congressional Glaucoma Caucus Foundation arrived Monday, Jan. 9, in Trumann in a van set up to screen residents for glaucoma and other eye problems.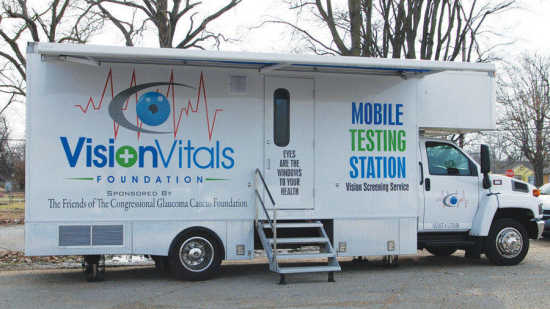 Dr. Angela Howell was present, along with a technician and driver Brian Daniels with the foundation, based in New York. Howell helped screen locals who wanted to have their eyes checked for possible glaucoma problems.
This is the first time Friends of the Congressional Glaucoma Caucus Foundation has made free screening rounds in Arkansas. The van will be in Lepanto on Saturday, followed by Augusta.
Friends of the Congressional Glaucoma Caucus Foundation contacted Howell and the Trumann Lions Club to help out with the project.
Howell is a graduate of Southern College of Optometry in Memphis and has been in practice for over 15 years. Howell also works at two other locations in Piggott and in Paragould. Her office in Trumann is located at 807 West Main Street and she works Monday and Wednesday at that location.
Glaucoma is an eye disorder that leads to the damage of the optic nerve. Permanently vision damage can be sustained from glaucoma if left untreated. It can occur when clear fluid that flows in and out of a small space at the front of the eye begins to drain too slowly. This causes pressure to build up, which damages the optic nerve.
The effects of pressure on the optic nerve differ from person to person and some may have damage at a lower pressure than others.
Millions of people have glaucoma, but some are at a higher risk, including African Americans over 40, anyone over the age of 60, anyone suffering from diabetes and those with a family history of glaucoma.
Glaucoma can normally be treated with pills or eye drops, which help with the drainage and pressure buildup. Conventional surgery can also be used if the less invasive measures do not work. Although there are treatments available many do not use the resources simply because they do not know they have glaucoma.
"It can go untreated at first because it is a gradual process, but once the damage is done it cannot be reversed," said Howell. "An eye exam is the only way to know. During the exam we check the patient's field of vision and the pressure level in their eyes."
Howell suggests that those who are 40 and over, especially those in the higher case groups, should have their eyes checked every one to two years.
Some symptoms of glaucoma include side vision failure, field of vision narrowing and blindness.
More information on glaucoma can be found at www.glaucomafoundation.org.