Youth Outreach Ministries opens
Monday, January 16, 2012
Though some parts of the building are unfinished, Bill Craft said during an open house and dedication last week that Youth Outreach Ministries is complete enough to open and serve the children of Marked Tree.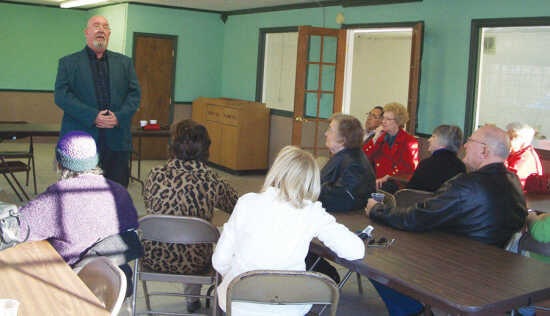 Youth Outreach Ministries opened officially Monday and offers a faith-based after-school program for kids which provides tutors to help with homework, recreation, a non-denominational devotion and a hot meal. The program is modeled after City Youth Ministries in Jonesboro and will be offered on Mondays, Tuesdays, Thursdays and Fridays.
Craft wanted to start the program after he woke up one morning years ago to a big commotion behind his house. He found that some kids were crossing the railroad track when an approaching train blew its horn. All the kids got off the track except for one 11-year-old boy who stuck his fingers in his ears and kept walking. Ever since, Craft has wanted to do something to help kids and give them hope.
At the open house, Craft said, "We're proud of this place, and it's due to the volunteers. If I tried to tell who all was involved in this, we'd be here all night."
Though Youth Outreach is officially opening this week, it did offer a nutrition program during the summer that Craft said was very successful. Craft thanked Soozi Williams for running the summer program, City Youth Ministries executive director Renell Woods for his help, and Gary Still, director of God's New Life.
"Gary's people have helped tremendously," Craft said. "I think of Gary as Jiminy Cricket on my shoulder giving me advice."
Mayor Wayne Nichols congratulated Craft and the other volunteers who put the program together.
"I know there are children who don't get the attention they need," Mayor Nichols said. "Hopefully this will help. It will help the school. They can't do it all. And it will help the parents who don't or can't help the children. I know this has been a dream of Bill's I've heard him talk about for years."
"According to the Bible, we need to take care of widows and orphans," Craft said. "Widows go to the Senior Center and Marked Tree doesn't have many orphans, but we do have social orphans. We've got to take care of them. Kids don't get food stamps. Their parents get food stamps, but sometimes parents don't shop wisely. And all children aren't hungry, but we want it to be available. Our goal is to lead children to Christ."