Bay claims third straight Kell title
Thursday, January 19, 2012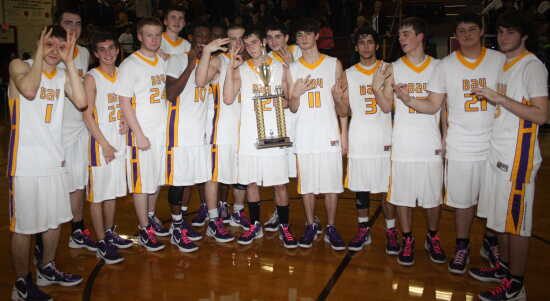 Bay and Trumann both had similar paths leading to their meeting in the championship game of the George Kell Classic this past Saturday night in Swifton. Bay made it a three-peat as they fought off a pesky Trumann team for a 70-58 victory.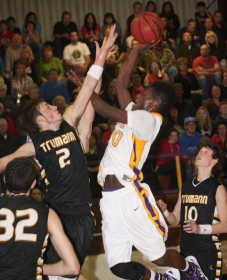 In quarterfinal games last Wednesday, both teams had pretty easy games sending each to the semifinal round. Bay downed Crowley's Ridge Academy 67-31 as three Yellowjacket players scored in double digits. Damien Holt led Bay with 13, Dylan Loven scored 12 and Tyson Oliver tossed in 11. This win set Bay (19-4) up to meet Earle in the next round.
Trumann (15-5) knocked Hoxie out of the tournament with a 79-61 win. Malcolm Washington had a double-double with 30 points and 16 rebounds. Lee Conatser pitched in with 17 while Matt Holt and Dylan Dulaney both had 10 points on the night. Nate Maxwell pulled down 15 rebounds. This win sent Trumann to play the second seeded Cave City Cavemen.
Both teams needed come from behinds in the last minute of the games in the semifinal round. Trumann used a three-pointer from Dylan Dulaney at the buzzer to get by Cave City 78-77. Matt Holt drove the lane and dished the ball to Dulaney for the winning shot.
Washington had another big game for Trumann (16-5) has he scored 36 points and blocked five shots. Holt chipped in with 18 points and dished out seven assists. Conatser had 14 points and Dulaney added 12.
Bay (20-4) led at the end of each period but was down three with less than a minute left in the game. Loven hit a three-pointer to tie the game with 50 seconds left. Bay took the lead for good when Freeman converted an old fashioned three-point play to put the score 59-56 with half a minute left in the game.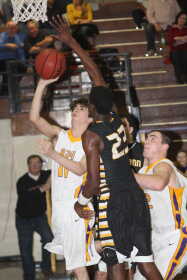 Loven led Bay with 19 points on the night. Freeman and Oliver added 15 and 10 points respectively.
In the championship game, Bay used a 15-2 run to open up a 14 point lead after the first period with the score 19-5 in favor of the Yellowjackets.
Oliver, who led Bay (21-4) with 24 points on the night, increased the lead to 17 with a stick back basket before the Wildcats went on a 17-5 run to close the gap to 31-26 at the half.
Conatser cut the lead to two with a three-pointer to start the third period. Bay went on an eight to two run to build its lead back to seven at 39-31. With Bay up 43-35 Trumann used a seven to two run to get to 45-42 with 12 seconds left in the period. Kail Harris grabbed an offensive rebound and scored with under a second left to give Bay a 47-42 heading into the last period.
Bay opened the final period by scoring the first four points to extend their lead to 51-42. Holt nailed a three-pointer and Conatser hit a lay up to get the Wildcats back to within four at 51-46 with six minutes left in the game. Trumann cut the lead to three when Washington scored inside to make it a 56-53 game. The teams scored a basket each before Bay closed the game with a 12 to three run to set the final at 70-58.
Freeman and Craft joined Oliver in double digits on the night. Freeman had 20 points while Craft added 13.
Holt led Trumann (16-6) with 18 points while Washington had 14 points along with eight blocked shots.
"Defensively we played well during the entire tournament. Our bench did a great a job in the championship game," Bay coach Brad Brannen said.
Trumann coach Skip Dulaney said, "I thought our kids played with a lot of heart and courage to fight back after being down early."