Lions down Hornets
Thursday, January 26, 2012
Harrisburg hosted Manila this past Friday night in senior high boys' basketball action. The Hornets led after the first two periods but the Lions used a strong second half to come away with a 67-52 win.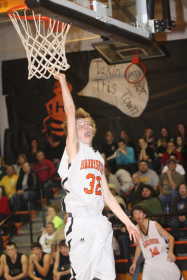 Harrisburg raced out to a 9-2 lead with 1:12 left in the opening period. The Hornets' Brayden Honeycutt canned a three-pointer at the buzzer to give Harrisburg a 12-5 lead after one.
Manila used a 10-4 run in the first two minutes of the second period to close the gap to 16-15 in favor of the Hornets. After trading baskets Manila hits a three-pointer to cut the lead to 21-20 before Harrisburg got a stick back bucket to make the score 23-20 with 3:10 left in the half. Manila hit another three-pointer tying the game up at 23 with 3:00 left in the period. Both teams traded buckets for the rest of the quarter with Harrisburg taking the lead into halftime at 31-29.
Harrisburg opened the third period with a basket to push their lead to four at 33-29. Manila hit another three-pointer at the 5:20 mark to tie the game at 33. Manila opened a four point lead at 39-35 with 4:39 left in the third period. Manila went up 46-41 with 1:06 left before the Hornets closed to within 46-43 as the period ended.
Manila used a 21-9 fourth period to break open the game on their way to the victory.
Brayden Honeycutt scored 14 on the night for Harrisburg. Drew Price pitched in 12 for the Hornets.
"The kids played hard tonight," Harrisburg coach Kenton Weaver said after the game. "They (Manila) changed defenses a couple times. When they went to man to man, we had trouble hitting our shots."
In the junior high game, Manila took a 62-41 win.