Lady Indians fall to M'duke
Thursday, January 26, 2012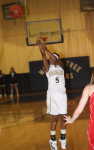 Marked Tree's Lady Indians hosted the Lady Greyhounds from Marmaduke in senior high girls' basketball action last Thursday night. The visitors made 12 of 13 free throws down the stretch to post a 53-42 win.
Both teams came out ready to play exchanging baskets and playing tight defense for the first five and a half minutes of the first period. Marmaduke hit two three-pointers late in the period to open up a 15-7 lead after one period of play.
Poohnu Perry opened the second period by draining a long three-pointer to make the score 15-10. The Lady Greyhounds hit a couple three-pointers to go ahead 25-16 with 2:42 left in the half. Jay Perry closes the lead to 25-20 with two free throws with 1:11 remaining in the half. Neither team scored again before halftime.
Marked Tree started out the third period with a 5-0 run to tie the game at 25 with 5:34 left in the period. Marmaduke used two-three pointers to go on a 6-1 run before Jay Perry is fouled and hits two free throws making the score 31-28 with 3:35 left in the third. Marked Tree coach Derik Drewitt is whistled for a technical after a foul call. Marmaduke hits both free throws for the foul and makes one of two on the technical shots to make the score 34-28 with 2:34 left in the period. The teams traded a basket each the remainder of the period with Marmaduke hitting a shot at the buzzer to go up 36-30.
The final period saw each team scoring a basket in the opening minute before Marmaduke strings together a couple baskets to go up 42-34 with 4:17 left in the game. The Lady Greyhounds extended the lead to 10, 44-34, with 3:04 left with two free throws. Marmaduke slowed the game down for the remainder of the game being selective on their shots on the way to the victory.
Poohnu Perry led Marked Tree with 19 points as Jay Perry added 12.
"The girls played a good game tonight," Drewitt said after the game. "Marmaduke slowed the game down in the last period taking us out of our game plan and they hit their free throws in the end."