Sixth grade stars!
Thursday, February 9, 2012
The Trumann girls' sixth grade team just capped off another great season which also capped a fantastic pee-wee career. The girls on the team have played together for three years and have had a tremendous run. The girls are coached by Mike Dungan.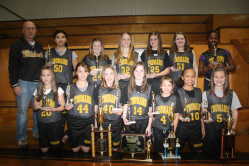 The team played in the Northeast Arkansas Basketball Conference comprised of 10 teams broken down into two divisions. Trumann played in the west division with Bay, Brookland, Caraway and Harrisburg.
The girls have won their division for three straight years while compiling a 29-1 record. They captured the conference championship three straight years going 9-0 in doing so. They boast a 50-9 overall record in the three years they played together.
In addition to the division and conference titles, the girls also won the Westside Hot Shot basketball tournament and placed third in the Valley View Blazer Shoot-Out Blue Division tournament this season.
Team members include: Misty Moye, Kendall Pruitt, Mya Chandler, Lexi Jackson, Baylee Bowers, Clementine Collins, Olivia Greenwell, Hannah Craig, Anna Waleszonia, Emilee Bibb, Destiney Hensley, Kaitlynn Hernandez and Riley Staten.
Congratulations girls!!