Bay girls downed by CR
Thursday, February 9, 2012
Bay's Lady 'Jackets hosted the Lady Timberwolves from Cedar Ridge last Thursday in senior girls' basketball. The Lady T-wolves had an answer for every Bay run as they posted a 60-50 victory.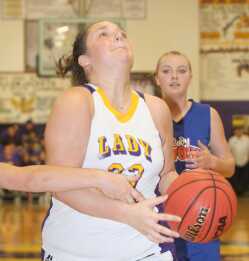 Cedar Ridge opened the game with a 9-0 run before Bay's Courtney Francomano hits one of two free throws to make the score 9-1 with 3:53 left in the opening period. Bay scored the next six points on back to back buckets by Hannah Willard and a Sara Sharp layup to cut the lead to two at 9-7 Cedar Ridge with 2:14 left in the first. Willard gave Bay the lead at 11-10 with two free throws with 1:26 left. The teams traded leads before Cedar Ridge hit a three-pointer with four seconds left in the period to take a 16-13 lead after the first period.
Both teams played well in the second quarter as Bay tied the game twice but a 6-1 run by Cedar Ridge to close the second period sent the Lady T-wolves to intermission with a 29-25 lead.
The teams exchanged three point runs to open the third period setting the score at 32-28 Cedar Ridge with 5:20 left to play in the third. Cedar Ridge scored the next four points to take a 36-28 lead with 4:40 left. Sharp and Willard both canned three-pointers wrapped around a Bay free throw to cut the lead to one, 36-35 with 2:25 left in the third. Cedar Ridge closed the period on a 6-2 run to make the score 42-37 after three periods of play.
Sharp hit a bucket to open the fourth before Cedar Ridge reeled off the next ten points to open up a 52-39 lead with 5:10 left in the game. Bay got within eight with 1:55 left on a Willard three-pointer to make the score 58-50.
Willard led Bay (16-14) in scoring on the night with 23 points as Sharp netted 11 points for the Lady 'Jackets.
"We had good energy and played hard but they (Cedar Ridge) had an answer each time we got something going," Bay coach Chad LaRose said after the game.