Wildcats surge to win
Thursday, February 9, 2012
Trumann used a strong second half to turn a five-point halftime deficit into a 64-51 4A-3 conference win over Gosnell this past Tuesday in Trumann.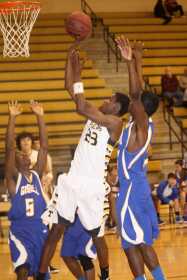 Trumann (19-9, 8-6) opened the game with baskets from Malcolm Washington and Lee Conatser before Gosnell reeled off nine straight points to go ahead 9-4 with 4:41. Trumann battled back and after back to back buckets from Washington, the Wildcats led 12-11 with 2:57 left. The first period ended in a 12-12 tie.
Gosnell opened the second period with a basket before Nate Maxwell and Washington both connected on three-pointers giving Trumann a 18-14 lead with 5:54 left in the period. Trumann stretched that lead to six before the Pirates hit consecutive baskets to cut the lead to two at 20-18. Gosnell ended the period on an 11-4 run to go in at halftime with a 29-24 lead.
Trumann came out a different team in the third period going on an 11-6 run in the first three and half minutes to cut lead to one at 35-34. Conatser gave Trumann the lead at 37-36 with a three-pointer with four minutes left in the third. Jimmy Creecy scored on a stick back to put the Wildcats up three at 42-39 with 2:02 left. Matt Holt's shot at the buzzer gave Trumann a 44-39 lead after three periods of play.
Gosnell opened the final period going on a 7-4 run in the first two and half minutes to get within two at 48-46. Trumann responded with a 15-0 to put the game out of reach at 63-46 with under two minutes left to play. The Wildcats went on to post the 64-51 victory.
Washington led Trumann with 25 points while pulling down 11 rebounds. Holt scored 11 as Conatser and Maxwell both netted 10 for the Wildcats.
"We played a better game offensively in the second half," Trumann coach Skip Dulaney said after the game. "Our defense stepped it up and did a better job rebounding. Great second half!
Trumann will host Bay Friday night for Senior Night.