Harrisburg native earns Blue Angels Crest
Friday, February 10, 2012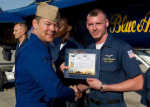 Those lucky enough to catch a performance of the U.S. Navy's Blue Angels soon will be able to watch Harrisburg native AM2 (AW) Rickey Humphries in action.
Humphries, the son of Vivian and David Tacker of Marked Tree and Rickey and Wanda Humphries of Harrisburg, recently earned his Blue Angels Crest.
Humphries has served in the U.S. Navy for eight years and currently is stationed in Pensacola, Fla. He will serve as a crew chief for Blue Angel #1 after being certified on Feb. 1.
Blue Angel team members train in squadron history, procedures, teamwork and traditions.
The Blue Angels are the U.S. Navy's flight demonstration squadron. Formed in 1946, they are the oldest formal flying aerobatic team. Using six F/A 18-Hornet aircraft, they perform at military and civilian airfields, as well as directly over major cities. Eleven million people watch the Blue Angels perform each year.
The Blue Angels will perform Sept. 8-9 at the Little Rock Air Force Base.