Trumann mayor tackles trash issue head on
Friday, February 10, 2012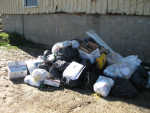 The troubled relationship continues this week between the City of Trumann and Delta Environmental.
In what has quickly become a common sight around Trumann, refuse is again spilling out into the streets from residential and commercial bins as, according to Trumann Mayor Sheila Walters, "102 streets were missed last week" by Delta Environmental.
"I don't know where the trash company is," Walters said.
Delta Environmental is under contract with the City of Trumann to collect the city's waste, however, ongoing disputes between the city and the sanitation contractor have put trash collections again on hold.
When asked why Delta Environmental has again fallen back on their contractual agreement to collect the city's garbage, Mayor Walters said, "I don't know the rhyme or reason."
Yet Walters seems concerned not only about the lack of service, but also animals and weather now beginning to affect the overflow garbage along Trumann's streets.
On Monday, Feb. 6, Walters ordered that all of Trumann's overflow garbage be picked up by the city road maintenance crew.
"We'll pick up all the garbage which has spilled out on the streets and transport it to the city garage," she said. Walters was confident the roll-off dumpsters at the garage would soon overflow.
Delta Environmental was reached for comment, but has "no position" regarding these latest developments. In a conversation with Mayor Walters on Tuesday, Feb. 7, Walters said she is currently "in negotiations to get out of our (City of Trumann) contract with Delta."
Mayor Walters intends to address this issue at the upcoming city council meeting on Feb. 14 in Trumann.