City of Trumann handling trash pick-up itself
Monday, February 13, 2012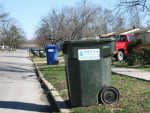 During a special meeting Thursday, the Trumann City Council decided that the city would take over residential trash pick-up from Delta Environmental starting this week.
Mayor Sheila Walters said residents should start putting their trash out on Mondays and that everything should be sorted out in next ten weeks.
Check the Feb. 16 edition of the Democrat Tribune for the full story.