Oliver leads Yellowjackets over Trumann
Thursday, February 16, 2012
Trumann hosted Bay this past Friday night for senior night. Tyson Oliver scored 31 points and the Yellowjackets played spoilers in handing the Wildcats a 68-50 loss.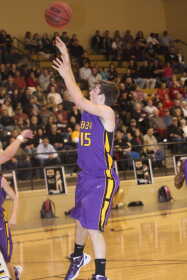 Bay jumped out to a 10-4 in the first half of the opening period. They grew that lead to 10 before a Malcolm Washington steal and basket in the closing seconds got Trumann to within seven at 16-9.
The second quarter saw Bay open up a 13 point lead at 26-13 with 3:56 left in the half. Trumann closed out the quarter on a 10-0 run to pull within three, 26-23, going to halftime.
Washington opened the third period with a basket to cut the lead to 26-25 with less than a minute gone. Oliver hit back to back three-pointers to push Bay's lead back to seven at 32-25 with 6:21 left in the third. Damien Holt scored a basket with 3:56 left while being fouled. Holt converted the three-point play to give Bay a 40-31 lead. Trumann again used a good run to close the period. The Wildcats outscored the 'Jackets 9-1 over the last two and half minutes to cut the lead to 41-40 after three periods of play.
Oliver canned a three-pointer to open the fourth giving Bay a 44-40 lead. Washington got Trumann as close as they would get at 44-42 with 7:02 left in the game. Bay's offense started to click from inside and outside as they outscored Trumann 24-8 the remainder of the quarter.
Oliver led all scorers with 31 points for Bay. Holt added 11 while Gunner Freeman and Dylan Loven both chipped in 10 for the 'Jackets.
Washington and Matt Holt both scored 15 points and grabbed 10 rebounds to lead Trumann. Jimmy Creecy netted 10 points for the Wildcats.
"We played better in the second half, shooting the ball and defensively," Bay coach Brad Brannen commented after the game. "I told the guys I was proud of them for being mentally tough with the way they answered each run Trumann had on us."
"We didn't do a good job of finding Oliver out of our zone, they (Bay) hit their big shots in the fourth period and we had trouble hitting ours," Trumann coach Skip Dulaney said after the game.