Nixon shines on senior night
Thursday, February 16, 2012
Jazmye Nixon, Trumann's lone senior, shined bright this past Friday night as she played her last home game as a Lady Wildcat. She poured in 31 points to help her team overcome a nine point halftime deficit and post a 57-49 victory over the Bay Lady 'Jackets.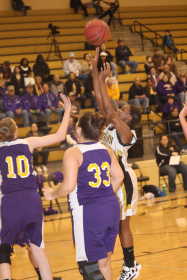 Trumann went ahead early 4-1 before Sara Sharp of Bay hit back to back three-pointers to put Bay up 7-4 with a little over three minutes left to play in the opening period. Jade Presley's three and a Hannah Willard jumper sandwiched around a Nixon basket made the score 12-8 with less than a minute left in the period. Bay led after one period, 13-8.
Willard drilled a three-pointer to open the scoring in the second period putting Bay up 16-8 in the opening minute of play. Trumann cut the lead to three on a Kelly Guthrie three-pointer with 5:08 left to play. Nixon scored on a layup less than a minute later to get Trumann within one at 16-15. Courtney Francomano scored the next baskets for the Lady 'Jackets to put Bay up five at 20-15 with 2:35 left before half. Presley extended Bay's lead to eight, 23-15 with a three-pointer with 1:56 left in the period. Nixon stopped Bay's run with two free throws making the score 23-17 with 1:06 left. Presley netted a three-pointer right before the halftime buzzer to give Bay a 28-17 halftime lead.
Bay outscored Trumann 4-2 in the first three minutes of the third period before Hannah Walters hit a three-pointer to make the score 32-22 Bay. The Lady Wildcats used a combination of inside and outside shots to end the period on a 9-0 run to make the score 32-31 Bay after three periods.
Guthrie gave Trumann the lead with a three-pointer to open the scoring in the final period putting the score at 34-32 Lady Wildcats. The teams swapped baskets before Walters nailed a three with 5:14 left to stretch the Trumann lead to five at 39-34. Nixon added to that lead with a basket making the score 41-34 Trumann. Nixon scored six of Trumann's next 10 points as the Lady 'Cats held a 50-40 lead with 1:45 left to play. Bay scored the next four points to cut the lead to six at 50-44 with 1:18 left. Morgan Taylor's basket put the lead back to eight with a minute left to play at 52-44. Presley hit a three with 47 seconds left and Willard made a pair of free throws to close Bay's scoring making it 52-49 with 42 second left. Trumann scored the last five points for a 57-49 victory.
Nixon led all scorers with 31 points for Trumann. Guthrie added 12 for the Lady 'Cats.
Willard led Bay with 13 as Presley and Sharp both added 12 for the Lady 'Jackets.
"I thought we played pretty good the second half," Trumann coach Scott Brown said after the game. "Our senior (Nixon) came out and played hard and led the team for us."
"It was a tale of two halves," coach Chad LaRose of Bay commented after the game. "We played good the first half, but it was like a lid was on the basket in the second half."