Volunteers raise money for Make-A-Wish
Friday, February 17, 2012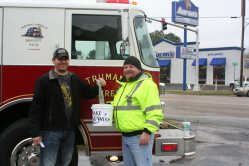 Volunteers, firemen and police set up roadblocks all across Northeast Arkansas last week to raise money for the Make-A-Wish Foundation.
The 14 road blocks ended up raising over $230,000, which will go toward granting a lot of wishes for terminally ill children.
Trumann Assistant Fire Chief Ernie Link was one of many volunteers who braved the cold, rain and early morning snow to raise money for Make-A-Wish. He said Trumann has been doing the Make-A-Wish roadblocks for 10 years now and tries to raise at least $6,000 every year -- the amount of money it takes to grant a wish for one terminally ill child.
"We're trying to do what we can for the kids," Link said. "The poor little fellows go through a lot."
One sizeable donation came from the Parker Hannafin Corporation. Carl Wilson of Parker Hannafin said employees had been collecting donations all year for Make-A-Wish. The collection was organized by Tammie Thomas.
"Fifteen employees put in all this," Wilson said. "We will try to continue next year and raise a lot more. I want to challenge all the factories to do the same thing next year."